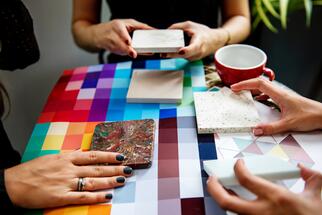 Pre svega, hajde da napravimo jedan mali uvod u to sta je zapravo coworking? Kako bi ti definisao termin coworking?
Prednost rada u prostoru gde nisu samo zaposleni jedne firme je ta što tu srećete i razne ljude sa kojim možete da se posavetujete oko raznih sfera poslovanja koje nisu u vašem domenu. Imate sjajnu ideju za posao ali treba Vam programer, koji eto sedi baš pored Vas. Pokrenuli ste posao ali ne znate ništa o Marketingu, po svoj prilici i neko ko se bavi marketingom je negde tu sa vama u prostoru, da ne pričamo o tome da ako vam nešto na računaru ne radi skočiće barem tri IT-jevca da vam pomognu. Tako da svoje ideje i nedoumice možete da podelite sa kolegama koji su za to stručni i već se time bave. Vi ćete im sutra uzvratiti uslugu iz svoje oblasti i tako u krug. Dakle, osnovna svrha coworking prostora je smanjenje troškova, širenje mreže ljudi koji mogu da vam pomognu ili da vam budu budući klijenti ili vi njihovi. Svi maštaju o radu od kuće, ali za produktivnost vam ipak treba radna atmosfera i motivacija i kontakt sa ljudima, i to je ono što coworking prostor pruža, jednu dozu ozbiljnosti i napretka. Jedno je kada vam klijent dolazi na sastanak u kafić , a drugo kada dolazi u pravu salu za sastanke sa pratećom tehničkom opremom gde možete da date svoj maksimum.
Kako si dosao na ideju da otvoris otvaj tip kanceclarijskog prostora? Koji su to problem koje se nadas da ces resiti I koje su to potrebe koje ces zadovoljiti otvaranjem WeShare-a?
Kod nas se javila potreba za privremenim radnim prostorom za već ostvarene firme, koje su tek stigle u Srbiju i žele da počnu odmah sa radom dok ne nađu svoj prostor po njihovoj meri, takođe potrebna im je adresa kako bi mogli uopšte da osnuju svoje predstavništvo u Srbiji. Isto tako dosta je manjih firmi koje ne mogu da nađu adekvatan radni prostor i trenutno rade po iznajmljenim stanovima, jer u poslovnoj zgradi ne možete da iznajmite 50-60 kvadrata.
Sa poslovne strane, koji su ti izazovi I poteskoce najteze padali sto se tice otvaranja coworking prostora? Da li si nailazio na neka neocekivana iznenadjenja, I koliko vremena je bilo potrebne ''od ideje do realizacije''?
Iako možda zvuči neverovatno, nekih posebnih poteškoća nije bilo, registracija firme i birokrtaija bi mogli biti jednostavniji, ali je sve teklo bez nekih problema.
Najveća problematika je bila da sve se moje i želje arhitekte uklope, krenuli smo od 300 kvadrata, i stigli do 500, a i sad nam opet fali prostora za još neke stvari, tako da će sledeći prostor sigurno biti veći.
Ali to je jedan začaran krug, što prostor prima više ljudi, veće su i potrebe za ostalim prostorijama.
Kakvo je trziste coworking kancelariju u Srbiji, ili specificno u Beogradu? Da li postoji velika konkurencija I kakva je tvoja prognoza za buducnost?
Tržište coworkinga u Srbiji nije novo, postoji od 2012, ali malo ljudi je čulo za koncept uopšte, situacija se menja na bolje, i sada već imamo par ozbiljnih firmi koje se bave tim poslom.
Po svim istraživanjima coworking tek očekuje ekspanziju, i svaki dan se pojavi nešto novo, tako da se radujem vremenu koje dolazi za ovu vrstu posla.
Koji faktori su imali odlucujucu ulogu u biranju lokacije za WeShare?
Lično mislim da je centar grada mnogo bolje mesto za rad od Novog Beograda, iako i Novi Beograd ima svojih prednosti. Mislim da smo spojili ono najbolje, centar grada sa kvalitetom poslovnog prostora koji uglavnom nudi Novi Beograd, jer centar ne može da se pohvali velikim brojem poslovnih zgrada.
Lokacija u Resavskoj se nametnula kao najbolja, povezanost gradskog prevoza, blizina parkova, restorana,banaka, kafića i svega ostalog što Vam je potrebno za poslovanje.
Sta je to sto coworkeri najvise traze I vole sto se tice dizajna? Sta je ono sto cini jedan takav prostor udobnim I prijatnim za rad?
Pre svega prijatan I funkcionalan prosotor za rad, mogućnost korišćenja sala za sastanke, kvalitetan ergonomski nameštaj I naravno dobru kafu.
Ukoliko želite na miru i u tišini da telefonirate, imamo phone booth-ove, kada Vam treba pauza tu je naša terasa, kada Vam dolaze klijenti na sastanak, naša recepcija će ih primiti.
Ukratko usluga mora biti vrhunska, mogućnost prilagođavanja potrebama klijenta I naravno praćenje trendova u samoj industriji.
Za kraj, mozes li da nam ukratko opises WeShare prostor? Sta tvoji buduci zakupci mogu da ocekuju?
Sa svojim "24/7" pristupom, parkingom na licu mesta, najsavremenijim optičkim internetom, privatnim kancelarijama, konferencijskim salama, otvorenim radnim prostorom, opuštajućom velikom terasom, naš prostor nudi savršen balans u stvaranju atmosfere produktivnosti, kreativnosti i udobnosti .
Bilo da želite da se družite, ili da imate mir i tišinu dok radite ili organizujete kreativne skupove, WeShare vam nudi mogućnosti za sve radne stilove.
Posetite nas i dozvolite nam da vam obezbedimo kreativno okruženje koje će podržati vaš potencijal, pomoći vam u razvoju ideja, povezati vas sa ljudima i ubrzati uspeh vašeg poslovanja!
Ukoliko tražaite kancelariju za manji broj ljudi, pošaljite upit za WeShare ovde, a da postavite vaš poslovni objekat ili coworking space na našu webstranicu i za sve dodatne informacije kontaktirajte [email protected]