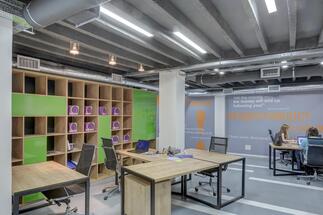 How do you define your co-working?
It represents a common space where people work, independently from one another, but are always prepared and willing to reach out and help fellow coworker. Sharing business environment encourages people to work in pleasant atmosphere, increase productivity. Also, they can always exclude themselves by using one of ours meeting rooms for a chat with colleagues and/or clients, telephone conversation, Skype call etc. Our openspace is accessible to everyone, including people with special needs, even though it has 3 levels.
What are the type of clients?
We have many different type of clients using our 3 services. Our coworking clients our freelancers and people working with companies abroad (educators, translators, programmers and SEO experts, even humanitarians). Virtual Office is a service where we have registered digital marketing agencies, consulting firms, organizations and other PR and agency businesses. Space Rent service is something used by both our coworkers and 3rd party educators and organizations for their own programs.
What about …?
… Total m2
... Total number of desks
… Number of Meeting Room
… Price per desk
Our space extends to about 450 m2. Soon we expect our new room – IT classroom – to be completed. In our hub there are 19 desks in our openspace coworking section. There is also a gallery with 3 extra spaces and a separate office. We are currently 100% booked, with a short waiting list. We have one meeting room as an extension of our openspace. Two rooms on a lower level are used for different events. One is bigger, more suited for seminars, conferences and workshops, and the smaller one is used for meetings and group sessions, as well as sometimes by coworkers, when our upstairs meeting room is often fully booked. We have 4 packages: Daily, Weekly, Monthly and Flexi coworking. Each package offers different benefits and has a different price. Price for a single day is 10 EUR. Weekly package (7 days in a month) costs 80 EUR, and our Monthly coworking currently stands at 140 EUR. There is also Flexi package that is fully specified on our website and its price is 60 EUR.
Can people find you on social media?
Yes. We are very active on several social networks: Facebook, Instagram, Twitter, LinkedIn.
Opening hours?
Our working hours are from 8 AM to 8 PM on weekdays, from 10 AM until 2 PM on Saturdays. We are located in the capital of Serbia – Belgrade, Cara Lazara Street, in the very heart of the city, near Knez Mihailova Street, National Bank of Serbia, and other relevant business institutions.
What is the next thing coming up ? (Any event or project?)
After hosting last year's Startup Europe Week, our coworking hub mostly concluded events in our own organization and opened its doors to 3rd party NGOs, movements and educators. Also, some of our coworkers regularly organize trainings in their area of expertise.