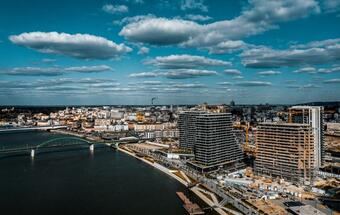 "There is no doubt that Serbia is currently in the process of transition with the aim of expanding its horizons and opening a wealth of opportunities for its citizens and economy - we are proud to be a key partner on this journey," Alabbar said in an article for the Serbian Chamber of Commerce.
The main part of this cooperation is the famous Belgrade on the water, says Alabbar and adds that the construction of that complex transforms the bank of the Sava River, complementing the infrastructure and attractions of the city.
"In the heart of this complex is the spectacular Belgrade Tower, the new tallest building in Serbia, which will become a symbol of the beautiful capital, Belgrade. The majesty of the Tower is an excellent example of the strength of cooperation between the United Arab Emirates and Serbia. "The United Arab Emirates has always been an ambitious country, with numerous projects and towers of this size, and the position and prestige of Kula reflect the courage of Serbia as a leader in Europe," Alabar stated.
As the project progresses, I am encouraged by the expectations that accompany it, he adds.
"The urban settlement on the river bank will bring a new economic pulse and optimism to the city, which will accelerate and encourage further transformative projects." "In the six years since we started this trip, the interest in buying real estate has far exceeded our expectations, so by the end of 2021, more than 1,600 apartments will be occupied," he says.
Alabbar points out that operating in international markets such as Serbia, I can clearly see the positivity, hope and enthusiasm that surround ventures such as Belgrade on Water.
"The old part of Belgrade has been breathed new life, and Belgrade on the water has become a new favorite neighborhood, while the wider part of the capital is becoming an even more attractive destination for residents and tourists. "Belgraders will find themselves in front of a wealth of new lifestyle choices, because the city is becoming a meeting place that exudes prosperity," Alabbar said.
He says that Belgrade on the water has opened new opportunities for trade cooperation with other companies from the UAE.
He expressed hope that the success of the project will create new market trends and innovative solutions, which will encourage other foreign investors, but also encourage Serbian entrepreneurs to cooperate with companies from the UAE in the future.
"Eagle Hills' vision has always been to improve the daily lives of people around the world by providing them with a valuable, comprehensive lifestyle choice. The same vision brought us the honor to cooperate with the Government of Serbia and the President of Serbia on this prestigious endeavor. With that in mind, we are happy to see that this complex has come to life and that the key matrices of success will be planted in future projects from our global portfolio, "Alabbar concluded.
Source: Taken from seebiz