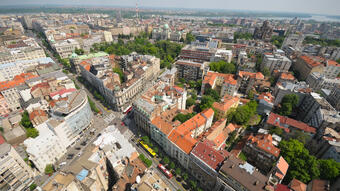 The total transaction volume for last year in Belgrade's residential market was €2.67 billion, which represents an increase of around 28% compared to the overall amount of €2.06 billion which was registered in the year 2021.
This also represents the largest year-on-year increase in recent years, which was caused by the rise in transactions in Q2 when the Ukrainian war broke out, and the rise in transactions in Q4 when it became evident that rents in Belgrade doubled in certain parts of the city as a result of the influx of population from Ukraine and Russia, real estate agency Cordon reports.
Key findings:
1. 70% of all transactions were made in cash while 30% were credit buyers. In recent years, credit buyers were slowly rising in numbers, while last year credit buyers dropped by 6% back in favour of cash buyers.
2. New construction apartments represented 42% of all transactions, so the majority of transactions are still in the existing apartment segment where prices are generally lower.
3. Rising apartment prices in Belgrade, which is still dominated by investment buyers, are causing some of these buyers to look for alternatives. There are two places where we are noticing a rise in transactions in the recent past: apartments in the mountain resort Zlatibor, which are all smaller in size (35-50 sqm), resulting in lower total ticket prices, and garages in Belgrade
4. The total volume of garage transactions in Belgrade is around €168 million and the rise in prices of garage spots is evident. Garages represent an alternative for people who are looking to invest €30,000-100,000 and as they are not able to find adequate options in the apartment segment for such low amounts, then they opt to purchase garage spots as the demand for renting parking spots is also on the rise. The rationale from some of these investors is that garage space does not require a refurbishment budget every 3-5 years like apartments, so sometimes they purchase multiple parking places. Prices of garage spots have gone up at a higher pace in old Belgrade compared to New Belgrade for several reasons: old Belgrade never had an adequate number of parking spots, so buyers of garages in new construction projects are not only investors, but people from neighbouring buildings who are not looking to relocate but are merely looking for additional parking spots and distances between buildings in old Belgrade are such that it is more conducive to buy an additional parking spot in the neighbouring building.
5. In the mountain resort Zlatibor there are currently over 20 active construction sites, but there is a slowdown in the number of transactions, as last year recorded 997 transactions compared to the year 2021 when that number was 1232. Given that prices have gone up significantly in recent years, it could happen that prices in Zlatibor are reaching a plateau, while construction activity is not slowing down.
6. It is possible that this year could see a lesser number of apartment transactions in Belgrade compared to the previous year, but it has to be analyzed by the volume of transactions per quarter. If there is a slowdown in quarters 2 and 4, that should be considered more as a "normalization" and not as a drop in activity, while we do not anticipate to see a drop in prices.
Source: Property-forum.eu