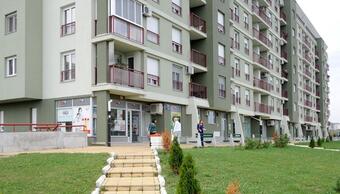 The sounds of dental drills, childrens hurts or, as a piston, the steps of the clients are just some of the daily troubles that the resi- dents of residential buildings in which the firms were based reside. The authorities do not have an accurate list of dwellings used for business purposes, and according to the Law on Housing, if their neighbors do not respond, they can only stay away. If they do business under the law and have the necessary operating permits, tenants can not expel them from the building.
Their place under the roof of a residential building in the capital is located in kindergartens, real estate agencies, dental offices, foreign language schools. The manager of the tenants in the Zoran Djindjic 98 Boulevard in New Belgrade Dusan Dvokic is also fighting with these neighbors. Since he accepted the job of the head of the multi-storey house, he is trying to make a balance between the business - the alien and the neighbors - the indigenous people. According to him, in addition to the fact that many people are building the building daily, the elevators are being used to the maximum, and thus they are more quickly spoiled, so they do not want any company to have their headquarters in their building.
"We heard that some people were doing business in the other building, so they were thrown out of them," said manager Dvokic. - They do not want to pay for maintenance of the building, and housekeeping is also broken. Stairs also began to fail, because someone is always coming and going.
According to the new Law on Housing, someone in his or her rented apartment was engaged in some kind of activity, whether it is a kindergarten, a real estate agency, does not require tenants' consent. Only when they need a green light of neighbors is it when a hostel opens in the building.
- If someone has an apartment, he has the absolute right to betray him or to open something in him - says Ljubisa Banovački, president of the Association of Professional Managers of Belgrade, for "Novosti". - He only has to get the necessary permits for work, and the tenants are not asking anything. If you break the public order, they can report them to the inspection, and that's their only option.
TAXES FOR ALL THE SAME
WHEN it is about participating in the costs of the building in which they operate, the decision on the amount of the minimum maintenance and investment maintenance tax is equal to the amount paid by the owners of apartments and business premises. Now everyone has the same costs. The amount of the tax depends on the age of the building, the size of the apartment, the investment maintenance, and whether the building has an elevator.
(source: Novosti.rs, photo: P. Milosevic)