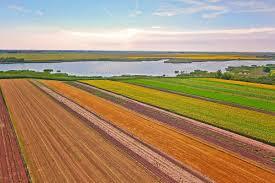 The prices of agricultural land this year ranged from 190 euros in Southern Serbia to 100,000 euros for one hectare in Juznobacki district. For a hectare of the most expensive land in the villages of Vojvodina, you could buy a good house in Belgrade or a luxury two-bedroom apartment.
The most expensive hectare of field in the first half of this year was sold for 100,000 euros in the Novi Sad suburb of Kac, about 12 kilometers from Novi Sad. The same price was achieved last year by the seller of arable land in the village of Gunaros near Backa Topola. At that time, an arable land of one hectare, 11 acres and 65 square meters, was bought by a natural person - a Hungarian living in Serbia. Who bought the land near Kać - whether a natural or legal person, has not been disclosed.
The calculation shows that the fields in Vojvodina were sold twice as expensive as in the vicinity of Belgrade. The highest price of arable land in Belgrade was 56,800 euros per hectare, while in Šumadija and western Serbia the most expensive hectare was sold for 52,650 euros.
The cheapest land was in the south of the country - 2,800 euros and in Šumadija and Pomoravlje, where a hectare cost about 3,800 euros on average.
According to the RGZ report, about 90 percent of the sold fields cover an area of ​​ten acres to three and a half hectares. As for the purchased fields that have more than five hectares, most of them are located on the territory of Vojvodina.
Milan Prostran, an expert in agriculture, states that it is expected that a hectare of land will be the most expensive in Vojvodina, as well as that prices will rise.
"It is also the highest quality land and it is not surprising that some arable lands were sold for big money. The prices of agricultural land have been rising since 2001, when a hectare cost around 200 euros, in 2008 around 5,000 euros, and here you see the figures today. ", explains Prostran and adds:
"Real estate, roads, business premises are being built in those places, and that is why prices are rising. It is expected that arable land will be more and more sought after and more expensive," said Prostran.
The most agricultural land this year was bought in Lozovik, Velika Plana municipality - 31 plots, while the least were bought in Lipar, Kula municipality with three plots.
Let us remind you, in March of this year, the Geodetic Authority came out with the results of the research when the average price per hectare was 9,650 euros in the North Bačka district, 8,250 euros in the West Bačka district and 8,500 euros in the Srem district.