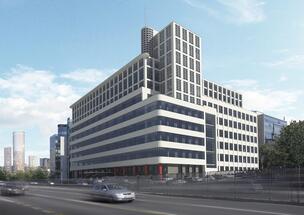 This was confirmed by the company Marera propertis, which the top architectural work of modern Dragisa Brašovan bought two years ago together with Aleksandar construction.
"The reconstruction of this cultural monument started last year, and in addition to the replacement of the facade, it is planned to change the carpentry, waterproofing, landscaping of the yard, and in the interior of the building, electrical and plumbing installations, elevators, new fire protection and security systems are installed, air conditioning and ventilation systems too. External lighting will also be installed on the building, "in order to emphasize the contours of the building", says Marera in written answers to Politika.
Considering the size of the building, which covers 40,000 square meters, the interior of the BIGZ building offers great flexibility in terms of office sizes. Each floor is divided into several units, with an area of 100 square meters, up to 3,500 square meters, which is the area of the entire floor and a special rarity of this building.
BIGZ will also have two restaurants, one of which will be on the roof of the building, from where is a beautiful view of the city - said Marera and add that "the rent price of the building corresponds to the offer of class A office spaces in Belgrade".
When she bought BIGZ in February 2021 from Petar Matić as the majority owner of the building, Marera announced that they will invest more than 40 million euros in the reconstruction and that will finish it in about 18 months.
The BIGZ building was built as a building of the State Printing Office between 1936 and 1940 in the area of the urban, industrial and traffic zone complex near Mostar. BIGZ was declared for a cultural monument in 1992.
Source: Bizlife.rs