In addition, a new city square - piazzetta, with attractive water features and a fountain - was added to the inner courtyard. This square will offer restaurants, cafes, and other attractive facilities, becoming a new destination in the city.
The office building, with its 21,144 square meters, stands out along the Futoški road with its modern architecture and height of 15 floors, becoming a recognizable symbol of Novi Sad. Its design combines horizontal volumes with dynamic facades, providing a balance between the needs of modern business and the comfort of the working environment.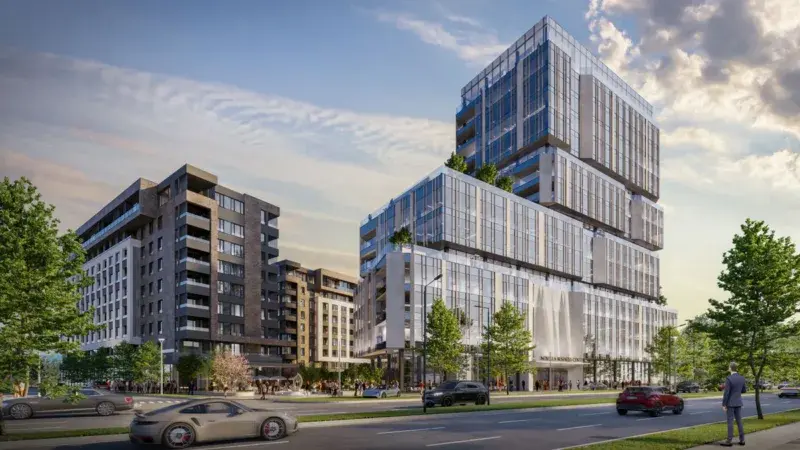 The office space offers separate receptions, security, impressive entrance halls, useful roof terraces with greenery, and spectacular panoramic views of the city. Inside the office space, an open plan with a flexible organization enables adaptation to the specific needs of clients.
Large floor-to-ceiling windows and high ceilings ensure impressive panoramic views. Also, many terraces and outdoor spaces allow working outdoors. The infrastructure network is the most modern and capable of meeting the highest demands of business users.
Residential buildings have modern architecture with clean, rhythmic forms and the use of warm materials, especially brick, which contributes to the warmth of the residential environment. A total of 279 apartments of all types offer a variety of options for different buyers and future tenants. Likewise, special apartments, such as duplexes, penthouses, corner apartments, and those with spacious terraces on the ground floor, stand out in the offer. All apartments are spacious, with large windows, comfortable terraces, and beautiful views of Fruška Gora, the inner courtyard and park, or the city panorama.
Source: Grenef.com