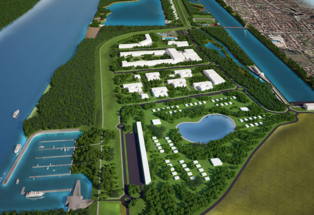 Veslačka staza, marina, akva park, velnes hoteli, sojenice, kamp, stadion i sporstski tereni, sigurno će u Bačku Palanku dovesti i domaće i strane turiste, kao i one koji dolaze rekom.
Sadašnji problem sa erozijom obale Dunava, na potezu zaštićenog prirodnog dobra Tikvara i postojeće gradske plaže, bi mogao da ozbiljno naruši obalu, a može doći i do spiranja obalnih slojeva. Ova činjenica je pred nadležne u Bačkoj Palanci nametnula potrebu da se taj problem reši, ali je time i omogućila da se celovito, prvi put u dostadašnjoj istoriji urbanog razvoja mesta, sagleda i kompletno priobalje i prostor u zaleđu sa svim njegovim sadržajima.
Upravo kompletirani "Generalni projekat uređenja Sportsko rekreativnog centra Tikvara i Priobalja u Bačkoj Palanci", koji potpisuju "Hidrozavod DTD" i Projektni biro DBA, pred nadležne u Opštini Bačka Palanka donosi sveobuhvatnu analizu postojećih uslova i stanja na priobalju i nudi nekoliko mogućnosti rešavanja ovog izuzetnog kvalitetnog prostora.
- Pre svega, pokretač izrade kompletnog projekta bila je ideja da se pronađu adekvatne i optimalne mogućnosti kako bi Bačka Palanka konačno "izašla" na reku. Kao što je kod nas svega nekoliko manjih gradova na pravi način rešilo svoj "kontakt" sa rekom, tako i Bačka Palanka svojim demografskim i urbanim razvojem nije na pravi način do sada ovo uspela da reši – objašnjava za "eKapiju" arhitekta Đorđe Bajilo iz biroa DBA.
Veslačke staze, gradski stadion
Generalni projekat je urađen i obuhvata Urbanističko rešenje zone priobalja sa novim saobraćajnim konceptom i definisanjem zona prema namenama korišćenja.
- U ovom segmentu izuzetno je značajna bila saradnja sa Pokrajinskim zaovodom za zaštitu prirode koje je svojim izuzetnim stručnim doprinosom i krajnje konstruktivnim pristupom dao veliku podršku ovom projektu - navodi naš sagovornik.
Urbanistčkim konceptom preporučena je izgradnja veslačke staze u proširenoj akvatoriji Crvcine bare i ona bi svojim gabaritima i sadržajima trebalo da omogući održavanje svih takmičenja domaćeg i internacionalnog ranga.
Kako je Bačka Palanka još od vremena velikog pionira ovog sporta Milana Janića bila okosnica i centar razvoja veslačkih sportova kod nas, činjenica da uskoro može dobiti i savremenu veslačku stazu dužine 2.000 metara svakako će predstavljati podatak za ponos i još veći zamajac.
Pozicioniranjem veslačke staze u Cvrcinoj bari ujedno bi se omogućilo i rešavanje sledećeg akutnog problema dela grada uz Dunav. Naime, sve atmosferske vode ali i veliki deo fekalnih otpadnih voda potpuno nekontrolisano završavaju u Cvrcinoj bari i time ugrožavaju zdravlje ljudi i kvalitet životne sredine, a sve u okviru Zaštićenog prirodnog staništa.
- Oko same veslačke staze će se formirati šetna staza sa pratećim elementima urbanog mobilijara i prostornog uređenja, dok su svi prateći objekti veslačke staze, pošto oni zavise i od nivoa takmičenja predviđeni da po potrebi budu i privremeni ili montažno demontažni, čime su i ekonomski opravdani i energetski održivi, a u kontekstu opštih trendova u gradnji sportskih objekata utemeljnih tokom Olimpijade u Londonu – objašnjava Bajilo.
Urbanističkim rešenjem i sportski centar Tikvara, doživeće promene. Deo objekta zbog gradnje veslačke staze biće uklonjen, ali će teniski i tereni za male sportove biti rekonstruisani. Uz njih je predviđen i gradski stadion.
- Postojeći stadion FK "Bačka" u centru grada je na problematičnoj lokaciji sa aspekta bezbednosti i lociran je u gusto naseljenom delu grada. Preseljenje stadiona je jedna od višedecenijskih ideja fudbalskih poslenika grada i sada se stiču uslovi za realizaciju. Takođe, prostor oko sportske hale u kojoj je nekada RK "Sintelon" harao domaćim i inostranim takmičenjima, se kompletira i privodi u celini sportskoj nameni – navodi naš sagovornik.
Započeti akva park i kompleks bazena biće proširen, planirana je i izgradnja velnes hotela, kao i dodatnih akva zabavnih sadržaja.
Prostor i za privatne investitore
Za korišćenje obnovljih izvora energije predviđeni su i "rezervisani" prostori za smeštaj solarnih polja kao i jednog centralnog energetskog bloka kojim bi se pripremala energija za ceo kompleks. Ostatak prostora iz sportske hale u celini je namenjen gradnji sportskih i turističko ugostiteljskih sadržaja.
Urbanističkim parametrima su dati osnovi za gradnju i formiranje ovih kompleksa bez velikih ograničenja u pogledu veličina parcela i arhitektonskih elemenata, a u cilju privlačenja investitora koji bi turističku ponudu ovog podunavskog i pograničnog mesta podigli na jedan visok nivo. U sklopu ove zone predviđena je i savremena marina kapaciteta do 250 vezova.
Generalnim projektom predviđena je kompletno nova obaloutvrda i sistem osiguranja od erozije obale, kao i zaštita od visokih voda Dunava. Postojeći nasip koji grad štiti od stogodišnjih visokih voda, ostaje u postojećim trasama i praktično će štititi buduću veslačku stazu od iznenadnih promena nivoa vode, kao što je i zahtevano pravilnicima o takmičenjima.
Nova odbramena linija, niža od postojećeg nasipa štiti prostor na samoj obali reke Dunav i predviđena je da bude "prelivna" i da se u slučajevima ekstremno visokih voda preliva i "puni" korito prirodnog rukavca Tikvara.
- Na ovaj način prirodnim putem se omogućava održavanje režima staništa i prirodnog dobra Tikvara koje je jedan od najvećih kvaliteta ovog prostora i generalno zone priobalja Dunava kroz našu zemlju. Na ovim prostorima nići će i naselje sojenica kao i prostor eko kampa, ali uz striktno i pažljivo rešavanja i gradnju isključivo prirodnim i ekološkim materijalima – navodi naš sagovornik.
Novac iz IPA fondova
- Početkom iduće godine bićemo spremni da krenemo sa izgradnjom obaloutvrda i pripremati detaljnu dokumentaciju čiju će izradu finansirati država, jer se radi o Dunavu kao državnom i rečnom koridoru. Nas čeka i izgradnja kolektora za atmosfersku kanalizaciju u Dunavskoj ulici. U Bačkoj Palanci su svesni da će realizacija ovog projekta izuzetno puno koštati, a to ova opština ne može, niti je planirano da radi svojim sredstvima – naveo je Bojan Radman, zamenik predsednika opštine Bačka Palanka u izjavi za novosadski "Dnevnik".
Kako je objasnio, konkurisaće za sredstva iz IPA fondova EU, Dunavske strategije i njenih organa, međunarodnih institucija koje su svojim planovima obuhvatile ovaj deo priobalja Dunava.
- Sve to finansiraće EU u narednih pet godina , jer će pristupni fondovi zemljama kandidatima u 2015. godini biti mnogo veći nego sada, a veći deo projekta mogao bi biti završen u narednih pet godina - dodao je zamenik predsednika bačkopalanačke opštine.
Generalni projekat biće na javnoj raspravi do kraja godine. Pored struke i nauke svoju reč daće i građani, sportisti, turistički radnici, ekolozi, ljubitelji prirode, sportski ribolovci...
Izvor: eKapija.com