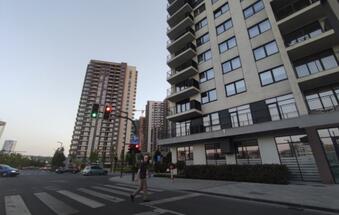 Their much better paying power than the average citizen of Serbia caused a tectonic earthquake on the real estate market: the prices of rent, but also of square meters for buying an apartment, jumped. A new problem could arise after Vladimir Putin's latest decision on the partial mobilization of the population.
Although real estate experts say that it is still too early to give estimates, but that they have been unofficially informed about the large number of Russian citizens who have been coming to our country since Wednesday, the owners of private properties can already see the difference.
One of the managers in charge of renting out a chain of private apartments in Vožodvac says that the apartments are rented for periods longer than six months.
"It's an indication that they don't want to go back there so soon," says the interviewee of the Nova.rs portal.
Depending on the size of these apartments, the price ranges from 25 euros for the smallest to 120 euros for the one with the largest square footage.
"They generally opt for those where the night costs an average of 60 euros, but there is always the option of booking to give you a slight discount," says Nova's interviewer.
He states that last night a young Russian who is 27 years old came to the apartment.
"He arrived with his wife, he almost cried. He works as an IT specialist, he will stay for more than six months", stated the Nova.rs interviewer, adding that at that moment there were no apartments available and that the guests decided to wait in a hotel in the city center.
He also points out that in the past two days, passengers from Russia arrive mostly on night flights and arrive at the apartments very late.
"A 23-year-old girl arrived tonight, tomorrow from 5 to 2 the whole family with three children will arrive, I have to wait for them," says the manager of the Voždovac apartments.
He adds that seven apartments are available, four of which will accommodate Russian families.
"I don't know what to tell you. Everyone is quite desperate and scared", says the interlocutor Nova, adding that the prices have not changed since the last "big arrival" of Russians.
Miloš Mitić, in front of the "City expert" agency, says that the influx of Russian citizens has not stopped since March.
"Russians make up most of the demand for apartments, not only in Belgrade, but also in Novi Sad. What is important to underline is that they did influence more expensive leases and square footage because they are in a hurry and have more money than our customers," says Mitić.
He adds that the interest is so great that this last peak has not even been felt after the declared mobilization.
"The market is limited by the number of apartments it can offer. "The prices haven't changed much since the jump in March or April," says Mitić.
He states that he has unofficial information that interest in buying apartments has increased in particular and that it is a "cash purchase".
"While the number of credit buyers has decreased, Russian citizens are still there and will influence the price to remain at a high level," says Nova's interlocutor.
Davorka Tasić, head of the "Moj kvadrat" agency, has a similar opinion.
"Too short a period of time passed, only two days, for us to feel the pressure. "Some conditions are still relatively common", says Tasić.
He reminds that the prices of square meters and leases are peppery, and will remain so as long as there is this much demand.
Let us remind you that after the President of Russia Vladimir Putin declared a partial mobilization in that country, the first planes with Russian nationals headed for Belgrade, which led to more expensive air tickets.
It would be said that the aviation industry does not remember a day like the one in which the mobilization was announced - a three-hour flight in economy class at a price of almost 10,000 euros. Those who decided to leave Russia after Putin's announcement about partial mobilization had to pay that much.
"The price of the ticket depends on many factors - at what time the ticket was purchased, on the capacity of the flight on a certain route, so there are many factors that the ordinary consumer does not even see. It is certain that there is great interest in flights from Russia, considering that only a few carriers fly, and those flights were probably quite full before. Now, of course, there is a rush for people to leave the country, but people are constantly leaving Russia," says Jelena Banac, an expert in the aviation industry.
Source: SEEbiz / Nova.rs