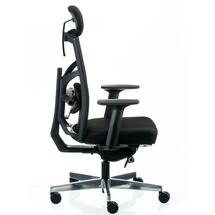 You certainly don't think much about your body position while sitting at a computer at home or work. This is one of the activities where we spend more and more time, especially if the profession is in any way related to a computer.
Ergonomics is the science of working conditions of people and the working environment. Ergonomics is looking for ways to prevent diseases that come from poorly designed equipment and the work environment. The best ergonomic solutions most often lead to significantly improved employee productivity and completely suppressing and preventively eliminating all physiological problems that arise from the passive sitting position.
Scientists say that people who spend more time stationary have a higher risk of death than people whose body is active when they work (excluding known risk factors such as smoking, overweight, and high blood pressure). Their recommendation is to find a quality chair. Spine pain, fatigue, and indigestion are compulsory accompanying symptoms of sitting incorrectly and inappropriate chairs in the workplace or anywhere if you sit longer. As this type of seating continues, the consequences will be greater and more lasting.
Choosing an ergonomic office chair
These chairs ensure proper seating and prevent tension in the neck and back. Those that have the function of height adjustment, seat position, armrests, and back are recommended. For long-term seating, chairs with a tall, ergonomically designed backrest, head restraint, and synchronized swinging mechanism should be chosen. Ergonomic chairs with an airy seat that resembles a fitness ball will allow the body to be held properly. Air seats improve posture, while also activating and strengthening muscles during sitting.
You can see how ergonomic chairs look at the link: https://anaks-namestaj.com/kategorije-proizvoda/kancelarijske-stolice/radne-stolice/
In developed countries, large companies strive to choose the best ergonomic chairs for their employees. They care about the productivity of their staff and investing money in inexpensive office chairs. They think that is a small price for them compared to the quality they can get with satisfied and healthy staff.