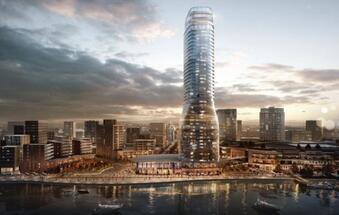 The information was confirmed by the Minister of Finance Siniša Mali, saying that the entire 39th floor was sold.
- That's a price of around 10,000 euros per square meter, Mali said.
Sveta Todorović is a Serb who lives and works abroad. According to the Serbian media, he owns villas, car parks, clothing and shoe stores "because his late wife Berina, originally from Sarajevo, attached great importance to clothing".
Sveta Todorović is the father-in-law of popular folk singer Dragana Jane Todorović. Seven years ago, the businessman bought Jana an expensive property, a castle built in the Baroque style, in Postbauer-Heng, near Nuremberg, Germany. The estate covers 16 hectares, and next to the castle there is also a lake, an outhouse, a large park and a special area for animals.
By the way, the Belgrade Tower in Belgrade on the water has not yet been completed. The facade is finished, and the terraces are to be glazed, the atrium is to be finished, and the interior work is to be completed.
The residential and business complex Belgrade on the Water, worth 3 billion dollars with 7,000 residential units, is being built by the company Belgrade on the Water, whose majority shareholder is Eagle Hills from the United Arab Emirates and the minority is the Government of Serbia.