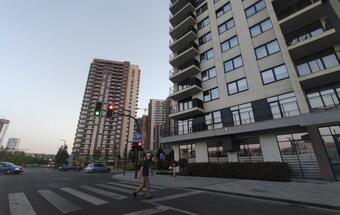 Apartments in old buildings are still more affordable than new ones, but the upward trend in their prices is higher than in new buildings, according to the survey "How quickly are apartments sold in Serbia?" by the real estate advertising site "4zida".
On the real estate market, as stated, it is felt that the offer does not satisfy the demand, which is constantly growing.
In Belgrade, old construction is 15 percent more expensive and the average price per square meter is 1,680 euros.
Apartments in old buildings are advertised in Novi Sad for an average of 69 days, as well as in Kragujevac for 63 days.
In Niš, there is a slightly higher demand among buyers, so here apartments in old buildings are advertised for an average of 51 days.
It is interesting that the absolute record holders, in terms of the shortest advertising time, are apartments in old buildings in Subotica, considering that after being advertised for sale, they are kept on average for only 34 days.
Data from the real estate market show that, after the challenges caused by the virus pandemic, it remained immune to the events in Ukraine, it was stated in the announcement.
According to the data of the Republic Geodetic Institute, in the first quarter of 2022, the number of sales contracts increased, but so did the price of real estate.
The number of sales contracts in the first quarter of 2022 increased by 6.7 percent, compared to the same period in 2021, and the total volume of funds increased by as much as 22 percent.
"The average advertising time, that is, the time that apartments for sale are on our website, tells us how attractive the property itself is to buyers, but also how high the demand is in a certain location. The feeling of high demand can also be created if there are few apartments on offer in a certain location, that is, a limited number of apartments in that city", says Jasmina Gavrilov Dražić from the website "4zida".
It is interesting, he adds, that apartments for sale in Zrenjanin very quickly become unavailable in classified ads because the average time for advertising apartments in Staragadnja in this paper is 54 days, and in Čačak, for example, 65 days.
The average time of advertising apartments for sale in Belgrade in old buildings is 66 days, however, there are differences from municipality to municipality. The highest demand is in Zemun, where apartments are advertised for sale for an average of 49 days.
After Zemun, apartments are bought the fastest in Rakovica, because they are advertised for an average of 57 days.
Participants in the real estate market, especially real estate agencies, feel the pressure of demand and witness that in many locations the offer does not meet the demand.
In Belgrade, old construction is more expensive by 15 percent and the average square meter costs 1,680 euros, and in Novi Sad by as much as 21 percent compared to the first quarter of last year and is now 1,517 euros, according to RGZ data.
A square meter in an old building in Niš is now 1,020 euros on average, and last year it was 821, which represents a growth of 23 percent.
Source: seebizz