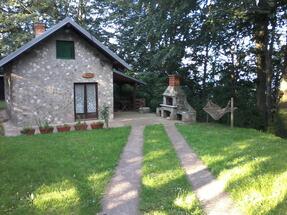 Bukulja is becoming one of the most sought-after destinations for Serbian citizens in search of a short break, but also for those who plan to become regular weekenders.
It is true that, according to experts, there is a growing interest in buying plots and houses in this place. What is good for potential buyers is that, despite the natural beauties similar to Zlatibor, Kopaonik or Divcibari, the prices here are still not so high. It is practically possible to buy an entire house with a plot for less than 20,000 euros.
He recommends this mountain and good road connections, but also the fact that the distance from the capital of Serbia is only about 79 kilometers, while, say, it is about 163 kilometers away from Novi Sad.
They call it the real "pearl of Šumadija", and the potential of Bukulja is still being realized.
It is suitable, say insiders, for the preparation of sports teams, and the marked hiking trails lead from the park of Bukovicka Banja to the top of the mountain. The Mountaineering Association of Serbia also talks about the trail on that mountain, as a demanding, but well-arranged and marked one, on which there are also two sources of drinking water.
Garaško Lake is also located on the edges of Bukulja, and because Arandjelovac is located at its foot, it is a favorite picnic spot for Arandjelovac residents and spa guests. It has several catering facilities, and there is a source of carbonated mineral water.
Cottages for less than 20,000 euros
As Anita Pešić says for "Blic Biznis", it is expected that the offer for the surroundings of Arandjelovac will only grow in the coming months.
"Although there is still a small supply of real estate for sale in Arandjelovac and its surroundings, it is not surprising that these locations are gaining interest, because people are increasingly investing their funds in facilities away from big cities, where the air is cleaner and nature is still untouched," he said. Pesic.
According to current information from this site, the price of land in Arandjelovac and its surroundings ranges around 1,000 to 1,200 euros per acre.
The sale of houses in Arandjelovac takes place at prices from 400 euros to 1,000 euros per square meter. The average price per square meter for the houses on offer is 500 euros, our interlocutor explained.
This practically means that houses with about 40 square meters can be bought for only 20,000 euros, and the ads confirm that.
Of course, the price depends on the location and equipment, but the ads for, say, a house of 80 square meters for only 25,000 euros, or, say, a 53-square-meter weekend house for 17,500 euros, stand out. Similar ads just keep coming.
Source: B92.net