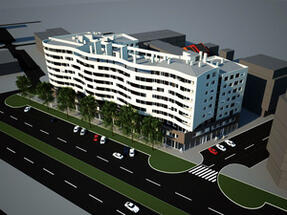 - The first stage compeleted in January and moved in. It was the first building with 75 flats of different structures and 7 outlets. A month ago, we started construction of the second facility. The building has a ground floor, a gallery, five floors and another floor. Garages are located in the basement and every flat has a parking place - Milosav Milosav, Sales Manager at Dijagoninvest says for eKapija.

Our collocutor outlines that office space is organized in the function of residents i.e. that the complex will contain a supermarket, a drug store, an exchange office, a gym, etc.
When it comes to equipping, Milosac mentions that both the previous and the second building will be equipped with quality life space.
- The flats are furnished with granite Italian plates of top quality and modern design. The floor is of the most quality finish and carpentry made of renowned producers. The flats already have calorimeters so they are ready when pay per consumption heating is implemented.
As our collocutor says, of demand continues as it is, they will very soon start the third stage construction.
- It was planned that flats in the third building are a bit bigger and more luxurious. Although we have just started construction we have already agreed upon a few flats and we also have a few bookings confirmed.
There are only a few flats left in the first building at the price of EUR 1.200 per square meter and it is necessary to set aside EUR 1.100 for the flats in construction stage.
Studio I was responsible for the design of the complex and Novi Sad-based ,Dijagonala is the contractor.
Source: Ekapija