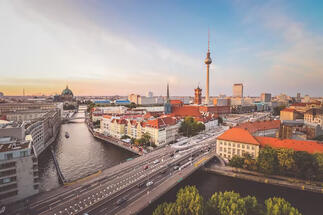 The cost of buying a new-build apartment in the German capital rose 0.8 percent in the latest quarter, partially reversing a dramatic decline in the previous three months, according to data compiled for Bloomberg by real estate advertising firm Immobilien Scout.
A square meter is now sold for an average of 6,093 euros, which is about 100 percent more than just seven years ago.
The decade-long rise in residential property prices in Germany came to an abrupt halt last year after the European Central Bank embarked on a series of interest rate hikes. Those moves doubled — and sometimes even tripled — mortgage rates for homebuyers, forcing many out of the market and causing asking prices across the country to fall.
Prices of existing apartments in Berlin fell for the second quarter in a row, according to data from Immobilien Scout. However, that drop — 0.3 percent — was extremely small and followed a 5.3 percent decline in the previous quarter, indicating that this development is likely to reverse soon.
If and when it does, it will revert to earlier trends. While a decade of low interest rates has sent property prices soaring across Germany, few places have seen an explosion as dramatic as Berlin, where the housing boom is renowned.
The German capital has long faced a severe mismatch between supply and demand in its rental market, with government figures showing that around 26,000 people in Berlin were sleeping in shelters, "couch surfing" or otherwise homeless at the start of last year. Some researchers estimate that the city would need to build more than 100,000 apartments to meet demand.
The housing shortage has led to an increase in rents, which in turn has increased the prices paid for buildings. With inflation recently hitting record highs, landlords have been tempted to flout Berlin's tough price control regulations and charge renters even more.
Other industry sources also indicate that the German residential real estate market has already returned to the previous era of steady price increases.
Source: biznis.rs