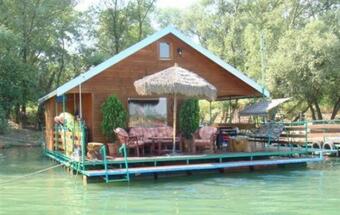 The data show that the purchase of such real estate, which costs more than a cottage on earth, is also growing, but that their rent is no less popular.
The prices of rafts range from 30,000 euros and up. Prices are mostly influenced by the size and equipment of the raft, while the second factor is the location. Thus, for example, a fully equipped raft on Umci, with an area of ​​52 square meters, is sold for 30,000 euros. Also in Umca, which is about 30 kilometers away from Belgrade, a slightly larger raft, with an area of ​​60 square meters, the owner values ​​43,000 euros, Blic writes.
On the New Belgrade bank of the Sava, there is an unfurnished, two-storey raft with an area of ​​80 square meters, which has not been built yet, and at a price of 50,000 euros. In the advertisement, the owner emphasized that as the works progress, so will the price.
At the same time, rafts without seats are sold and they cost a little less. There are also rafts without a permit and a place, at a price of 11,000 euros, which is the price of one near Novi Sad with an area of ​​30 square meters, which requires investment.
The prices of cottages on the coast are much higher compared to cottages on Fruška gora, Divčibare and Kosmaj. For example, a cottage near Bajina Basta on the very bank of the Drina, with an area of ​​31 square meters, with a garage of 19 square meters, is for sale at a price of 75,000 euros, which is about 1,500 euros per square meter.
A cottage with a view of the Danube, renovated last year, located on the Fisherman's Island near Novi Sad, with an area of ​​24 square meters costs 38,000 euros or 1,583 euros per square meter. On Zlatar Lake, a house of 56 square meters, in a new building, costs 78,000 euros, ie 1,392 euros per square meter.
There is an explanation for the question why a small number of houses on the shores and a small number of rafts are for sale. A short internet search reveals a large number of rafts and cottages that are rented out every day, at excellent prices for the owner.
The most popular destinations for renting rafts are on the Sava and around Belgrade, and a large number of people rented rafts on the shores of Lake Perućac this spring.
Cottages on the banks of rivers and lakes, as well as rafts, are rented exclusively online per day, and prices range from 50 to 300 euros, depending on the area and equipment of the facility itself. So for 80 euros per night you can rent a raft on the Sava in block 45 in New Belgrade, with a total area of ​​50 square meters.
More luxuriously equipped and larger rafts and cottages are rented at prices of 150 euros per night and more, and as stated in the ads, they are mostly rented for celebrations and parties. Thus, the raft on Ada, which, for example, has a jacuzzi and a swimming pool, rents an area of ​​110 square meters at a price of 300 euros, and a villa on the bank of the Sava 15 kilometers from the city center, an area of ​​250 square meters with a yard is rented at a price of 200 euros.
Source:seebiz.eu