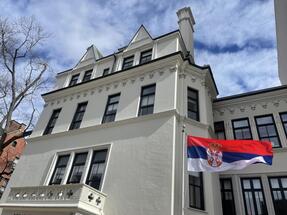 Serbia is the owner of a new building in the center of Washington, which will house the embassy, ​​which has not owned its official premises so far and has worked in rented and unrepresentative temporary business premises for many years since the breakup of the former Yugoslavia.
"Today, in Washington, we wrote a small but significant line from the diplomatic history of Serbia," said Serbian Ambassador to the United States Marko Đurić during the ceremony of handing over the keys, RTS reported.
He says that today Serbia became the owner of the new, "beautiful palace of the Serbian Embassy in the center of Washington, just a few hundred meters from the White House."
"This Neo-Renaissance, historic Washington building was owned by former US Secretary of State Elihu Ruth, and has now become the new building of the Serbian embassy," said Đurić.
He expressed satisfaction that Serbia finally has a new home after several decades of living in rented, unconditional spaces where even the Serbian flag could not be flown and where there was no adequate or decent way to represent the country.
Đurić added that the new building will be an important gathering center for the Serbian diaspora and the Serbian community, not only in Washington and the surrounding area, but in the whole of America.
The new home of the highest Serbian diplomatic mission in the United States is the result of hard work in Washington in recent months, but also essential understanding and support in Belgrade, said Đurić and added that he was grateful to the American hosts from the State Department and the city of Washington. procedure.
source: rs.n1info