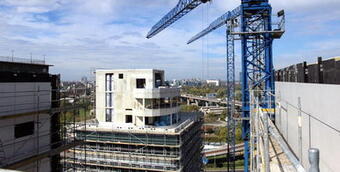 The "Old Mill" project is progressing quite well, and the works have largely moved inside the building. Intensive works are on the internal installations, while the completion of the work on the facade is expected by the end of the month.


During the summer they completed all concrete works on the buildings, and started installation of the façade panels, so these works are practically at the final stage. The largest part of the object is already lined with glass panels and with frames that are already in place, the job will be completed very quickly. According to information we received, all facade works will be completed by the end of October.


After rough concrete works on the new wing of the hotel were completed, focus moved on the renovation of the old mill building. The central part of the building is now rebuilt, which previously served as a front access to the construction site. The builders are now slowly reconstructing the appearance of the front facade of the old mill. The functional concept of the hotel envisages the old building to serve as entrance hall with a restaurant, bar, reception and conference hall. It is planned for all interior arrangements, including furniture, equipment and inventory at the finished by mid next year, specifically the end of May 2014.


The business part of the complex is also well advanced, and the facade is already set to a large part of it. There is also a pretty intensive installation work inside the building, and according to the investors, at the end of the year they will start active negotiations with interested companies.


Hotel in the complex will work under the name of "Radisson Blu Old Mill Belgrade". "Soft opening" is planned for August 2014, while the official opening ceremony is expected in September 2014. General Manager for the Radisson Blu Belgrade will be Mr. Thomas Świeca, which is already in Belgrade working on "pre-opening " phase. The hiring process for the hotel staff is also expected to start in March, with interview selection for prospective candidates.
source: www.beobuild.rs