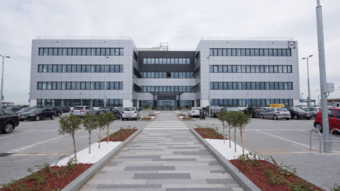 This prestigious certificate confirms that the Lidla Administrative Building in Nova Pazova was built at a site where construction works least affected the ecosystem and waterways , and that recycled and sustainable materials were used in order to reduce the negative impact on the environment.
The list of reasons why Lidla Management Building has been positioned as the leader of sustainable construction in the country includes both implemented technology for efficient water saving and thermal insulation, as well as lighting installation that saves electricity . Special attention in the construction is dedicated to the well-being of the employees, since the quality of air inside the facility was largely taken care of.
"This acknowledgment confirms that the principles of sustainability are respected during the construction of the building, but also commends the design and the positive impact on the environment."
"As a responsible company, we take care of the community we work in daily. Part of our activities are focused on the preservation of the environment, and that is why we are very proud that the way of building and using our Administrative Building has led to it becoming the first bearer of LEED Platinum certificates in Serbia, as well as the fact that our Logistic Center owns LEED Gold certificate. We will continue to grow responsibly, contribute to the ecological awareness of the narrower and wider local communities, and to regard resources as an endangered nature and society, "says Darko Vukotic, a representative of Lidl Serbia.
LEED certifications include an independent assessment of the green building elements of a particular facility, and LEED Platinum, in this systematization, is the highest estimate that can be obtained.
"We are very proud that we contributed to the award of the first LEED Platinum certificate in Serbia," says Marija Golubovic , executive director of Energo , who carried out the certification process. "We hope this achievement will serve as an incentive for raising new buildings in Serbia in line with the highest standards of sustainable construction," she adds.
Gold Building
Recall, Lidla Logistics Center Serbia is also the holder of LEED certificate - namely, this center is one of the largest facilities in South East Europe with LEED Gold certificate, which also means that the principles of sustainability are respected during construction - efficient use of water, reduction of waste, and use sustainable building materials.
source: gradnja.rs