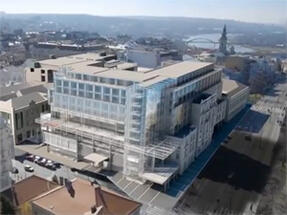 The Novosti team found on Tuesday a few workers demolishing the remaining parts of the sidewalk in Rajiceva street.
The new board with an image of the new hotel and business space in Rajiceva with smaller changes signified the beginning of the latest works which officially started in 2009. Thus, instead of 2015,, the works end was rescheduled for February 28, 2017.
The Israeli investor, Ashtrom group, designed an exclusive location under the roof of the hotel and a shopping mall on 15.300 m2. Buyers would have an access to shops and catering outlets from Knez Mihailova, Kralja Petra, Uzun Mirkova and Pariska streets. The city center would thus get 500 parking places more in the underground facility levels.
For a decade, the construction site has been a subject of prosecutions and charges both of the owner of returned nationalized property near the lot and current residents of the street.
Source: Novosti