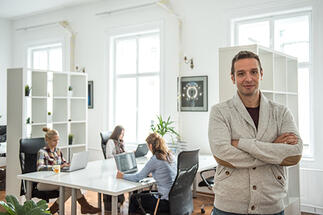 Miroslav Mijatov is the founder & project leader at Coworking & Coliving Conference South East Europe (CCCSEE) that will take place in Belgrade 9 – 11 October 2019. 7 years ago Miroslav founded the first coworking space in Serbia, Smart Office, and currently continues to innovate, explore new trends and help the brightest minds from different corners of the world come together and share their knowledge.
We have interviewed Miroslav to get to know more about his exciting journey, the concept of coliving and the upcoming conference in Belgrade.
Hi Miroslav, could you please tell us more about yourself? What is your background? What is the focus of yours right now?
For many years I've worked as a part of a larger team, predominantly in the marketing sector. At one point I decided it was time to quit and start something on my own. The idea of coworking came up very quickly, I have jumpstarted the first coworking space in Serbia called Smart Office and today after 7 years of pioneering work, I am fully focused on bringing "Coworking & Coliving Conference Southeast Europe" to life – a new frontier for a more regionally connected entrepreneurial environment. We are gearing up for October, with the idea to keep the conference annually in one of the Southeast European countries and to continue to promote the importance of entrepreneurial business model and self-employment for local economies.
You opened the first coworking space in Serbia. How and why did you decide to do that?
Quite accidentally. I did not even know what coworking was at the time. A friend of mine from Poland called me and asked if we have a coworking space in Serbia. I began to ask around and quickly realized that there is not a single coworking space in Belgrade or in Serbia as well. It seemed to me like a great idea to support as only a small number of people from my surroundings knew what the concept was. I was freelancing, researching and started making financial projections for a potential startup. In May, the decision was made to open the space, in June I founded Smart Office, and on September 1st, 2012 we started working. We had a rough beginning as it took a bit of time to explain to people how the concept actually works, but as soon as the first coworker entered the Smart Office things started moving further. The shifts in the digital world and economy made me realize that start-ups and entrepreneurs in Serbia need a different kind of support to develop their projects and businesses. They do not only seek to find an alternative solution to their isolated home office or constraining corporate cubicle, but they also strive to belong to a community of individuals who are open to the exchange of ideas, collaborations and working together. With this in mind, Smart Office was designed to inspire, connect and support entrepreneurs, start-ups, freelancers and small businesses to build
their business network and ideas.
We are to this today fully committed to helping them address critical business challenges by cutting out major investments and high office space rental costs while boosting entrepreneurship and innovation, and offering good coffee, a shoulder to cry on if needed and plenty of great networking events throughout the year.
Was it not too scary/difficult for you to start back then? How did the whole process of starting up something so new to the local market go for you?
As it happens, many problems were inherited from the times that are now in the past. To turn to an entrepreneurial business model, especially in countries of former Yugoslavia, barriers arise at the political and economic level. A lot of bureaucratic and administrative difficulties, unfavourable tax policy for small businesses, lack of institutional understanding and high initial costs, can make you question deeply whether a startup is a good idea. Support for entrepreneurs is a good pre-election promise package, every few years – but not a fully functioning reality. While things are changing, it is still hard to procure funds from the state as bureaucracy and administration can suffocate some really cool ideas. Support from family and friends is crucially important on the quality scale as every entrepreneurial project starts with a person. When you add insecurity, ignorance and uncertainty to the beginning of your business, it's no surprise that many entrepreneurs do not survive the first year. It is hard, but one needs to be persistent and consistent in order to succeed. If you are expecting smooth sailing instead of a bumpy road, you will be in for a treat. Nonetheless, after seven challenging years, we are still there, hustling, struggling but always growing and moving further.
Wow, that sounds very impressive! You really did a great job, Miroslav! And what is the concept of "Smart Office"? Why is it called so? How is it different from a regular coworking?
Smart Office is not just the name of our company. The concept itself is based on office solutions that are designed and adapted to people who are constantly moving, to those who work from home, freelancers, small start-ups, representative offices, but also to all who need a smaller but fully functional business premises at affordable prices. Smart to us also means savvy and adaptable – and that is what we always wanted to achieve. With crisis hitting left and right, people complaining and not doing much to change their surroundings, I saw the opportunity to start a business at a time when a large number of companies closed or was about to close.
Regular coworking seven years ago was non-existent and we helped shape the narrative in Serbia. Nowadays each space has different story and community – and we pride ourselves that some of our first coworkers are still working from Smart office even after all these years.
What is the concept of Coliving?
Unlike coworking, where people only share the working space, coliving goes a step further
providing living solutions (alongside coworking spaces) for nomads and entrepreneurs. This
usually entails a more connected community of like-minded individuals who enjoy sharing their everyday life with inspiring people from around the world. From 2005 till now, over 15,000 coworking spaces were open across the globe. Serbia has over time become part of the community and a pioneer in implementing the concept in 2012 when Smart Office opened.
Today, almost 40 coworking spaces are operational in Serbia, while one of the most innovative concepts was developed by Ivan Brkljač, as a coworking & coliving space in Mokrin village – Mokrin House, a house of ideas where digital nomads who believe in the freedom to operate business from any corner of the world come together. Thanks to this philosophy, Mokrin House ended up on the Forbes list of best coliving spaces in the world for digital nomads.
You are organizing a Coworking & Coliving Conference South East Europe 2019 (CCCSEE) in Belgrade coming October. Could you tell us more about it? What are the main idea and the purpose of it? What is it going to be/feel like?
The international conference entitled "Coworking & Coliving Conference Southeast Europe" will be held from 9 to 11 October in Belgrade (Kombank dvorana) and Mokrin (Mokrin House), gathering over 300 participants from around the world. With internationally recognized speakers who will share their knowledge, experience and ideas ranging from empowering young female entrepreneurs in developing economies to the concepts of digital solitude the Conference will aim at boosting innovation, entrepreneurship and employment, developing a community that is open to ideas swap, cooperation and readiness to change. Using the years of meeting inspiring individuals and connections from around the world to bring the best to Belgrade, I also wanted to connect regional players in the coworking/coliving arena more closely and establish a hub that will continue to live in annual iterations around the SEE. One of the main motivators was not only to strengthen the Serbian coworking community but to ensure that there is an annual meeting that supports the constant exchange of ideas and good practice from around the world and on a more local scale in the SEE. By establishing such a regional hub in Serbia, we wanted to show that this part of Europe is ready for the next level of integration and that smaller businesses can greatly benefit from such an interconnected hub.
What kind of people and atmosphere can visitors expect?
We already have the majority of local coworking representatives signed up, as well as a large number of regional coworkers/entrepreneurs that have booked their place at the conference. Many big companies in the region will also have their representatives at the event, as coworking is not just for freelancers anymore – many global corporations support remote work as a part of their regular business strategy and the trend is growing locally as well. In addition to some of the most interesting innovators from Germany, US, Netherlands, Croatia, Slovenia and Switzerland, smaller start-ups from the region who are leading the way in different IT and digital services will also be there to share ideas, use the space for networking and connecting.
This digital paradise will also be open to some of the best students from the University of Belgrade who will bring their talents and passion for building up a career in a setting that is far removed from the traditional corporate one. All in all, an amazing mix of spirited individuals from the region and the world who will be there to establish new connections, strengthen the existing ones and expand personal and professional portfolio in the most relaxed yet professional setting that Belgrade can cater for. With many side activities planned, amazing food, good local wine and rakija – all reserved for after the official agenda is completed – CCCSEE will bring the best of both worlds from Belgrade, business and pleasure combined, to all the participants and attendees.
What kind of speakers will the conference bring together?
CCCSEE 2019 will gather more than 300 attendees and 40 speakers worldwide professionals and individuals who are currently shaping the global coworking community and who will share their knowledge, passion and experience in the areas of Coworking, Coliving, Remote Work, Digital Nomadism, Social Impact & Responsibility, Women Entrepreneurship, Freelancing, Innovations, Startups communities, Networking, Personal Development and many more.
We confirmed the participation of numerous key speakers from the global coworking community such as Carsten Foertsch (Germany), Mike LaRosa (USA), Tobias Kremkau (Germany), Ronald Van Den Hoff (Netherlands), Lenneke Van Rossum (Netherlands) as well as many other prominent experts from Serbia and the world including seven TEDx speakers: Lazar Dzamic, Branimir Brkljac and Slavimir Stojanovic from Serbia, Matthew Trinetti, Kelsea Crawford, Betsy Bonnema from the USA and Stéphanie Brisson from Canada.
The combination of speakers who can empower with their words and successful business owners who can share knowledge on how to grow a start-up or nurture a creative business idea will ensure a perfect balance for a diverse audience we are expecting this October. Internationally confirmed as leading experts in their respective fields, our panellists will fuel the exchange and help create a community of people who will follow in the footsteps of the first conference and keep coming in the years to follow. This integration is something we have been working on for the past six months to bring all the essential elements together and offer a platform that is different from anything we have seen regionally.
If you want to join Miroslav and Seat2meet at the CCSEE conference securing a place is possible upon registration here, while more details on the Conference are available on the official website of the event: www.cccsee.com.