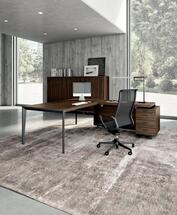 Company Anaks reveals to us what are the new trends in office furniture.
1. DARK COLORS
After several years in which white color was the most popular color for office furniture, dark colors return to fashion. Dark shades of oak, walnut or wenge, combined with black painted details, add drama to your office and gives it a more formal and sophisticated look. This trend can be seen in a variety of products, from office chairs, table legs, lamps to tables, storage or cabinet units.
2. ACTIVE OFFICE FURNITURE
Active office furniture becomes a trend and necessity for modern offices. Ergonomic modern office furniture is essential if you want to avoid employees' discomfort and workplace injuries. Sit and stand desks and ergonomics chairs which encourage greater levels of activity, are becoming popular office furniture options that improve quality of life and boost health and wellness.
3. MULTIFUNCTIONAL FURNITURE FOR MULTIFUNCTIONAL SPACES
Furniture pieces that can adapt to different needs in the offices become more and more popular. Offices are no longer single-purpose spaces, but spaces that can be used for different things, by different people. Tables which can be used for conference, presentations, staff meetings or as bench desks, or sofas that can be used for informal meetings or short breaks during work.
4. OFFICES THAT LOOK LIKE AND FEEL LIKE HOME
Comfortable workspaces which resemble "living rooms" become a must in the business world. More and more companies are having chill-out areas with comfortable sofas and armchairs, home-style dining tables, cafès, meditation areas, even outdoor spaces, that make employees feel like they are at home. This way the workplace becomes a far more appealing experience, where employees feel motivated, happy and valued.
5. NATURAL ELEMENTS
Plants and natural materials such as wood, rock, water are helping in reducing stress in the work environment. Having a plant or a piece of furniture that is made of real wood, or wood-like laminate, brings a touch of nature into your office, thus creating energizing working space.