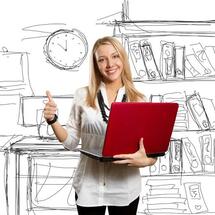 Ponekad je teško biti produktivan, motivisan ili jednostavno spreman za početak radnog dana. Ali tvoji najveći prijatelji, kao što je vaša jutarnja kafa sa djevojkama u kancelariji, brza provera vaših društvenih medijskih računa, neka muzika na računaru ili lijepa poruka na telefonu čine puno.

09:30 sada je vreme za posao i zašto se ne bi osećali dobro dok radite? Gledate van prozora na prekrasan pogled i zahvalni ste što imate priliku biti ovde. Istorijske građevine, priroda i moderna arhitektura pomešana zajedno sa lepim, početkom prolećnog sunca. Budite pozitivni, pokažite svoje najbolje i uzmite ove savete da bi bili srećni na poslu.
1. Postavite dnevne ciljeve, organizujte svoj posao

Uzmite celokupni pregled vašeg svakodnevnog posla, i pokušajte da se reorganizovati kako bi bili najefikasniji. Pokušajte sa izmenom neumoljivih zadataka s onima koji vam se sviđaju. Planirajte svaki od vaših radnih dana uzimajući u obzir ono što tačno želite postići tokom svakog dana. Postizanjem svojih dnevnih ciljeva osećat ćete se zadovoljno. To će imati pozitivan uticaj ne samo na veče, već i na dobar sledeći radni dan.


2. Recite ne multitaskingu

Uprkos mitu da je multitasking vrlo efikasan on to zapravo i nije. Profesor Clifford Nas na Univerzitetu Stanford tvrdi: multitasking oduzima više vremena nego što ga daje. Tokom multitaskinga teže je biti koncentrisan i kreativan.
Umesto da se bavite sa nekoliko zadataka odjednom, bolje je koncentrisati se na jednom i završiti ga na najbolji mogući način. Postavite svoje prioritete i radite stvari jedan po jedan.
3. Započnite priču sa svojim šefom

Odnos sa vašim šefom je je jedan od ključeva za sreću na poslu. Budite sigurni da razumete očekivanja svog šefa i pitajte ga za redovne povratne informacije. Pronađite svoje lične granice i neka vaš šef zna što vas čini bitnim.


4. Imajte kreativne projekte

Ako vaš posao postaje previše dosadan ili monoton, ili naprotiv, ako stalno zahteva snažnu koncentraciju, uzmite kreativan lični projekat. To je nešto na šta se možete usredsrediti za vreme pauze i to će odvlači vašu pažnju od napornog rada.
5. Nađite vremena za opuštanje i istezanje

Uzmite brze pauze tokom dana da napravite neke jednostavne vežbe, istezanje i šetanje, slušajte svoje omiljene pesme, uz dnevne vijesti ili pogledate motivirajuće ili smešne video snimke.

6. Budite otvoreni za svoje kolege

Razvijte dobar odnos sa svojim kolegama. Razmjena ideja i iskustava može poboljšati vaše znanje i veštine, kao i dodati smisao vašem radu.Dobra uspostavljena mreža je uvek vredna imovina. Vreme provodeno sa zanimljivim, pozitivnim i sposobnim ljudima sa kojima radite, će podstaći vašu motivaciju, poboljšati vas i vaše raspoloženje
7. Fokusirajte se na izvrsnost ne na uspeh

Kad se fokusirate na uspeh možete lako pasti u zamku upoređivanja sebe s drugima. Osećaj zavisti, igranje kancelarijske politike, ili takmičenje protiv svojih kolega, umesto saradnje nije najbolji način da se osećate srećno. Ako se fokusirate na izvrsnost vi merite svoje lične ciljeve i potencijal. Jednostavno se fokusirate na dobijanje najboljeg iz svakog dana i to će učiniti da vaš rad dobije više značaja i koristi.

+1. Konačno, možda najvažnije ... smešite se!

Osmijeh ima posebne ovlasti, osmijeh je zarazan, pomoću osmeha se osećate privlačnije!
Ako se smešite i dobro ste raspoloženi, onda će se to širiti i na sve vaše kolege. Dakle, nemojte zaboraviti na osmeh! 

Provedite lep radni dan, te pokušajte dobiti najviše zadovoljstva iz svog svakodnevnog rada!