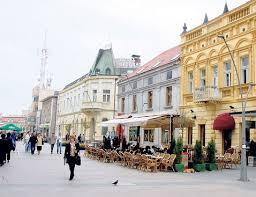 Čačak - Despite the epidemic, the real estate market in western Serbia is functioning smoothly, and the construction of new residential buildings did not stop even during the state of emergency.
Although the economy on a global level knew about better days, many young people from Čačak decided to buy an apartment in 2020.
"We have been living in Čačak as tenants for ten years, the last time the boss told us that we had to leave the apartment quickly, and knowing from experience how difficult it is to move with the family, since we have two children, we decided to buy an apartment in this building. we bought on credit, we will save on some other things, it will not be easy, but I am sure that with regular income we will push through the much-needed investment ", says for RINA, 36-year-old buyer Lazar Teodorović. Cacak has never been built so much and there is no respite for the construction industry. The construction of new multi-storey buildings in Čačak is proceeding smoothly, and this year a record number of business and residential buildings are being built.
"The main reason why the housing boom has occurred is low interest rates. You have a situation where a potential buyer who lives as a tenant, comes up with the idea to buy an apartment because it is cheaper and better to pay the loan installment than rent. Low interest rate is the main the driving force behind the intensive construction of residential buildings ", says Vladan Ljubisavljević, owner of the real estate agency" Viza ".
The average buyers of apartments in Čačak are mostly young people who have a family, and who have been renting money so far. The best-selling apartments are in new construction, where the price ranges from 800 to 1,000 euros per square meter, and slightly less used apartments are sold, whose price per square meter is around 600 euros.
Source: B92