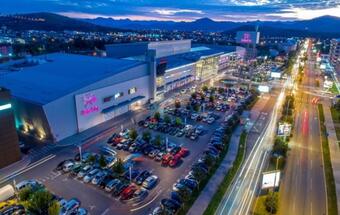 Montenegrin Deputy Prime Minister Dritan Abazovic announced on Twitter that "a large Israeli company is arriving in Montenegro" after meeting yesterday with Hay Galis, executive director of BIG Shopping Centers Group.
- The investment cycle begins. This is the first in a series of new large investments in Montenegro, wrote Abazović, adding that the Government "brings new values ​​to the economy, creates new jobs, as well as restores hope", reports Investor.
Earlier, it was announced that the British Hystead Limited, majority owned by the South African real estate investment fund (REIT) Hyprop Investments, expects to complete the sale of Delta City Mall Podgorica in Montenegro in the first quarter of 2022.
- The sale agreement is currently being negotiated and we are convinced that the transaction will be realized during the first quarter of the 2022 calendar year, Hystead said in a report to the Johannesburg Stock Exchange.
Hystead received a non-binding offer from an Israeli company to sell its entire stake in the entity owned by Delta City Mall Podgorica, based on a gross asset value of 95m euros ($ 107m).
In December, the company sold Delta City Mall in the Serbian capital, Belgrade, to Balkans Real Estate BV for 115m euros.
Hystead bought Delta City Mall Belgrade and Delta City Mall Podgorica from Belgrade-based Delta Holding for 127.8m euros in February 2016.
Source: seebiz.eu