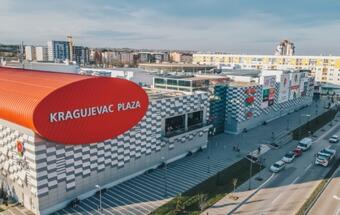 Plaza Kragujevac covers an area of ​​22,700 square meters, with 96 percent of filled capacity, while Krusevac shopping park occupies an area of ​​8,700 square meters with 100 percent of filled capacity, as well as additional land for future expansion of the park.
The total purchase value is EUR 61 million, with an annual net operating income of EUR 5.2 million.
"Today, BIG Group is the owner and operator of four shopping centers in Vojvodina - BIG Novi Sad, BIG Fashion Outlet Indjija, BIG Pancevo and BIG Zrenjanin and three shopping centers in Belgrade - BIG Fashion Shopping Center, BIG Fashion Park and BIG Rakovica. By taking over the latest two "We are strengthening our network in central Serbia. We believe in the Serbian economy and the country's growth, we will continue to expand our network to the south and east, as well as to the Balkans and Central and Eastern Europe," said Robert Yahav, CEO of BIG Shopping Centers Serbia.
BIG Group has a total of nine shopping centers in Serbia, as well as four projects in the categories of residential, commercial and logistics space.
Source: seebiz.eu