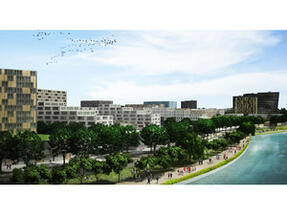 The Ilidza municipality has developed the main design and next year it is planning development of the Regulation plan for zones "Nova Ilidza 1", "Nova Ilidza 2" and "Nova Ilidza 3". As Senaid Memic, the head of the ilidza municipality said, it is a historical project not only for Sarajeo but the entire Bosnia and Herzegovina.
- Municipal council has made a decision on development of regulation plans Nova Ilidza 1" (42,3 ha), "Nova Ilidža 2" (23 ha) i "Nova Ilidža 3" (53,7 ha). The funds will be provided by the Ilidza municipality from the budget for 2014 and 2015 and the Bureau for development planning of the Sarajevo Canton will do it.
- The project offers self-sustainability, diversity, new quality of living, regional business cneters, luxurious flats and hotels, developed parks and walking zones, etc. We are witnesses of constant media promotion of the Belgrade on water project while we in Bosnia and Herzegovina, due to very bad environment in media, keep silent about good things we are doing – Memic says.According to Memic, "New Ilidza" will be a modern settlement with 40.000 people at the right coast of the Zeljeznica, from thermal Riviera to entity line with Vojkovici.
"Nova Ilidza" will have more zones and they are planning to build a residential settlement surrounded by parks, regional business centers, a museum park, blocks, etc. The biggest residential zone will be the Zone A with open and sunny blocks, oriented towards walking zone and the river. In the south part, the Nova Ilidza structure is split into smaller parts and turns into flat quarters.
The head of municipality adds that more investors is interested in investing in Nova Ilidza and land will be possible to be sold at KM 40 m (some EUR 20 m). The Nova Ilidza project has recently been presented in Belgrade where it was said that a few investors from Kuwait was interested who have already been building in Sarajevo area.
One of the project objectives is to move the city center into the Nova Iidza business zone so the core of Sarajevo towards Ilidza would be less jammed. As it was outlined at the presentation in Belgrade, many companies are interested to have their branch office there due to vicinity of the airport, Olympic mountains, tourist offer, etc.
The Ilidza municipality is hoping to welcome new investors next year and until then, certain benefits should be enabled and a few laws on construction of BIH should be adapted.
Source: eKapija.com