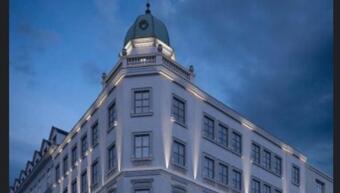 Experts from the company Novaston Asset Management, which deals with real estate management and business space, point out that in recent years there has been an increase in prices per square meter in older buildings, due to growing demand from domestic and foreign companies for offices in the city center. , but also prestige.
"Their value is almost equal to those in newly built facilities, which until recently, due to the application of modern construction standards and modern design, had an advantage in the office space market," says Sanja Svilar, Commercial Services Manager at Novaston.
One of the best locations in Belgrade for business companies is in the city center and the main pedestrian zone - in Knez Mihailova Street. The combination of tradition and modernity best describes the former building of the company "Rudnap", which after the reconstruction will become a high-quality and functional business space of class A, made according to the latest architectural and design standards. Novaston Asset Management, as part of the Novaston platform, is an agent for renting office space in this building, which will be available for lease in early fall.
This building of significant historical value, from the late years of the 19th century, survived shelling in the Great War, then several bombings during the Second World War. It is located in an extremely attractive location - in Vuka Karadžića Street 6, on the corner with Knez Mihailova, and diagonally from the building of the Serbian Academy of Sciences and Arts.
"It is a building with five floors, with more than 1,400 m2 of high-quality office space for rent. The typical floor is c. 270 m2. The exception is the ground floor space of c. 70 m2, which is ideal for service activities, such as cafes and restaurants. The first two floors, as the oldest part of the building dating from the 19th century, have high ceilings, which is a characteristic of the then "salons". Also, the fifth floor will be especially attractive, which, in addition to the high ceiling and skylights, also has a really impressive dome ", explains Sanja Svilar.
Today known as the former "Rudnap" building, this Belgrade landmark was built between 1870 and 1875. The famous hotel "Russia" was located in it, and the owners were the famous trade family Barlovac. The building was extended several times during the 20th century, following the construction trends that dominated in those times and thus became one of the symbols of the city center. This future prestigious business space, reconstructed and equipped according to the standards of the 21st century, will be the right place for companies with tradition.
source.novosti.rs