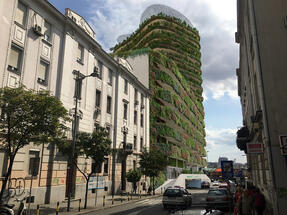 The facility will be multifunctional. The Eco-Hab Center for Education and Practical Training of students, students and young scientists will occupy four floors of the building and will consist of conference rooms, classrooms, eco-shops and a fair, as well as work space for startups and individuals who develop "green" ideas. The "Štatverk" building will also contain a business space intended exclusively for ecologically oriented companies and organizations, as well as aparthotel. At the base will be a garage with 514 parking spaces, as well as parking for bikes and chargers for electric vehicles. The roof of the highest part of the building is designed for a public viewing and eco-restaurant - say from the "Checker".

Architectural team "Štatverk" presented the conceptual solution for the future eco-center at the Green Venus. soon the implementation of the project could start.

The first soliter with green facades in Serbia will have a total area of ​​over 30,000 m², while the green facade will occupy 2,773 m². In addition to vertical green façade systems, on the outside of the building, there will be additional greenery in the form of flower plants, and the roofs will also be green. The interior of the building will also be enriched with numerous plants.