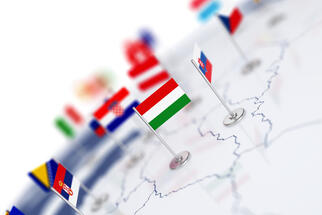 According to "CEE Investment Report 2018: New Frontiers of Growth", the CEE market has been the fastest growing region in the EU ever since the latter's enlargement in 2004. In H1 2018, its growth rate was 4.2%.
"Over the last ten years, Central and Eastern Europe has evolved from an emerging market to one that is now increasingly regarded as mature," says Adrian Karczewicz, head of divestments at Skanska's commercial development business in CEE.
"The recent upgrade of Poland by FTSE Russell to 'developed market' status in its 2018 classification is an example of CEE countries being regarded as on a par with U.S., the U.K. and Germany. It's great news for the whole region and how it's perceived internationally. For the commercial real estate sector, CEE has been a key target for several years now. It's a profitable, safe and stable region for doing business."
With almost EUR 5.8 billion set to be invested in the CEE office market in 2018, investment activity can be regarded as very high. Investors in the region show a high degree of diversity, coming from places such as the United States, Western Europe, Israel, and South Africa. According to commercial real estate market forecasts, 2018's investment volume may exceed EUR 12 bln.
According to the research, CEE has become a mature market in economic and legal terms as well, with transaction structures, tax rates and other costs in CEE now comparable to Western standards. This makes investors feel comfortable, as well as secure. However, transaction costs are not only competitive compared to more mature markets, but sometimes even more favorable, due to preferable conditions in aspects such as tax and CIT rates.
At the moment, an important transition is taking place in the CEE, the press release says. In the past, wage competitiveness was the main driving factor behind growth, but in the present it is increasingly based on knowledge. Currently, the need for jobs requiring a high-level expertise is growing fastest in the CEE, while demand for jobs that require elementary capabilities is stagnating. Due to this, the region is slowly turning into a region attracting foreign staff rather than simply being a supplier of workers. These tendencies alongside demographic and social trends are also increasing the interest in modern workplaces.
The demand for modern office spaces is strong in the region, with net absorption in CEE's major cities amounting to around 700,000 sqm in H1 2018. The high demand also drives a robust development activity, with around six million sqm set to be completed in the next three years, raising the region's modern office stock to 21.1 million sqm. This amounts to an annual growth rate of almost 9%.
For almost 20 years, the business services sector, one of the fastest evolving and growing sectors, has been one of the largest office space tenants, according to the press release. While a slowdown in the sector has been predicted multiple times, it has failed to materialize thus far. While the sector is expected to keep on growing in the future, a number of public institutions have also begun moving to modern office buildings with domestic enterprises following suit as well
(source: budapest business journal)