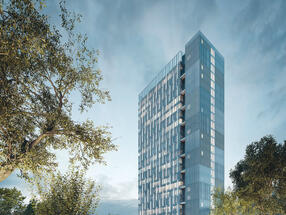 Ušće Tower Two is a modern, prestigious, luxury office building, offering A+ class office space , ground floor plus 22 floors, with 23,200 sqm of GLA. Amazing entrance lobby together with selection of retail units and a beautiful landscaped area in front of the Tower will set a premium notion of high-quality working space. Along with the new tower, MPC Properties is developing a two-level underground garage with 738 parking lots which will serve both towers.

- We are looking forward to the completion of Tower Two as this will be the new Landmark of our city, offering design and technology advance comparing the market standards. Tower Two will have an amazing, attractive 10m high entrance lobby, clear office space height of 3 meters, uninterrupted city views of more than 270 degrees, beautiful and efficient glazed façade, innovational natural ventilation system, smart vertical communication, amazing rooftop space with the best city view in Belgrade. Tower Two is designed and shall be built in accordance with BREEAM standards, aiming for BREEAM excellent - MPC Properties says.

In front of both towers, they will set up a beautiful landscaped area with common areas for the tenants and the finest selection of greenery, perfectly connecting to the existing park across. This micro location will be completely changed and open for public as of 2020.

Navigator 2nd phase of 27 000 m2 GLA and 3 levels of underground garage with 511 parking places, is a modern A class office building, designed and built in accordance with LEED standards.

Navigator 2 will have 8 office floors with 3 meters free height and unique floor plate of approximately 3000 m2 of NLA, offering possibilities for fast growing companies and companies with demands of more than 1000 m2 to accommodate at 1 floor. With central atrium and floor to ceiling glazed façade, offices will have natural light from all sides. With 3 lift cores, vertical communication and floor organization will be perfectly organized.

- With the new restaurant, fitness center and other amenities already placed in phase 1, we will offer unique destination not only for business purpose but also for after work activities as well, developing Navigator business center to a meeting point for New Belgrade's CBD - MPC announces.
(source: ekapija)