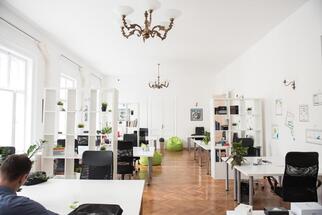 Smart Office is a modern and warm coworking space located in the main pedestrian street in Belgrade. They are community of freelancers, entrepreneurs, enthusiasts and hard-working visionaries who like to work together and share their ideas and experiences. Smart Office is the first Serbian coworking space, opened 2012. Being the pioneers of coworking concept in Serbia makes them fell very proud but also responsible for its continuous growth. They are putting a lot of effort into building a self-sustaining local hub for those who want to realize their ideas alongside our growing international community of coworkers who found their place in Smart Office.
From start-up teams to digital nomads, IT experts or PR experts host variety of professionals. For more than five years they hosted over 2000 freelances by offering them fully funcitonal, affordable working space with fully flexible terms of use.
In addition to that Smart Office is actively attending many events like European Coworking Conferens being held in Dublin in 2017. They are also planning to cooperate with NGOs and host workshops for mothers to fight for their work rights and against all forms of discrimination that mothers are exposed to.
Some of amenties:
343
square meters of total area /
70
coworking spots / A small meeting room for up to
5 people
/ 2 big meeting rooms up to
20 people
/ 1 masterclass for up to
30-40 people
/1 Skype booth for calls
Smart Office is open Monday to Friday from 9am to 9pm and Saturday from 9am to 5pm.
You can follow them on social media:
Facebook - Smart Office / Instagram - smart_office_coworking / Twitter - @SmartOfficeRS / Linkedin - Smart Office Belgrade/ Youtube - Smart Office coworking