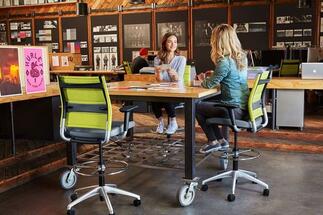 The modern office answers the question of whether flexible workspaces can help productivity. For many companies, rows of cubicles or desks are no longer common. Instead, many modern offices offer varied workspaces so employees can move around from their desks and find a spot that meets the needs of their current task.
For example, many offices have open-concept seating where employees can have a clear view of all of their teammates from their desks. When someone needs to have a meeting or a private conversation, many offices offer small meeting rooms. In addition, the modern office often boasts comfortable couches for when colleagues need to converse and collaborate in an informal setting.
For people who require a space where they can really buckle down and focus, many modern offices have quiet rooms designed for one or two people to work. Some modern offices offer standing desks in addition to the more traditional ones. In any case, the goal is to provide employees with a variety of workspaces other than their desks.
Focus on Culture and Company Mission
One of the primary functions of an office is to exhibit the main qualities of the company culture. For a modern office, it means ensuring all employees, from the CEO to the temp, are well versed in the company mission and vision and embody the core values the business holds dear.
This doesn't mean that everyone has to memorize the mission and recite it daily. Instead, many businesses now have corporate events where the company volunteers its time for a special cause or gets together to celebrate a milestone within the company. Instead of high-ticket corporate retreats, many businesses today have small, intimate lunches and team-building activities instead.
The company culture is embedded in the office space as well. In many offices, meeting rooms are named after themes that embody the organizational culture. The colors used throughout the office and on the walls, flooring, and furniture can be specifically picked to foster an emotion that is in line with the company's core values.
Small but Valuable Perks
In the modern office, employers need to offer their team the kinds of perks their competitors aren't. The workforce today isn't just looking for a job. Instead, they are looking for a career where they can grow. Modern offices offer their employees perks, including education reimbursement plans that encourage continuous learning.
Flexibility is also a perk that is common in many modern offices. This includes working hours other than the usual nine to five and the option of working remotely. In addition, many modern offices have gyms or fitness classes on site, in addition to daycare services for children. Some companies also offer tokens such as free lunches and snacks. While a small gesture, they add to the greater culture of the company and the modern office.
(Source: Bizfluent)