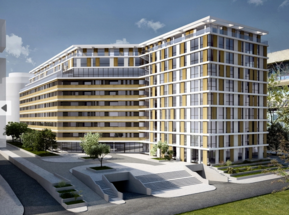 The complex will be located at the lot next to the Energoprojekt headquarters in Novi Beograd, in Aleksinackih rudara street. At the moment, there are barracks of this construction holding, between VIG Plaza and Maxima complex. The facility will have an access from Aleksinackih rudara street, where underground garage entrance will be.
As Beobuild portal reports, the building will occupy almost 30.000 m2 of gross space with underground and ground floors. The space is split into two underground and ten ground floors (Pr+8+Ps). Underground floors will occupy more than 9.200 m2 and will have 225 parking places while ground floors will have 137 residential units. Apart from residential area, in the ground floor, there will be 17 flexible outlets for servce and commercial activities
The building is of "snake-like" shape with air-conditioned facades of composite wood panels and glass with combined horizontal and vertical dynamics, outlined with the irregular hole lengths and brisoley. Energoprojekt hopes they will succeed in finishing all preparations and start construction by the end of 2015, Beobild reports.
Source: eKapija.com