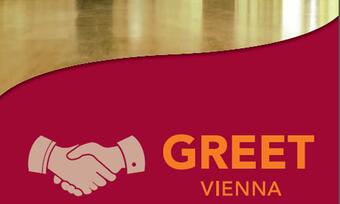 Johannes Hahn, EU Commissioner for Regional Policy, will officially open the second GREET Vienna at 1:30 p.m. on 19 May 2014.
The list of high-ranking speakers is long:
Kamil Blazek, Association for Foreign Investment, Czech Republic; Gernot Bleier, Reality Consult; Erhard Busek, chairman of the board of the Institute for the Danube Region and Central Europe; Marcus Cieleback, Patrizia Immobilien AG, Germany; Adela Cristea, Hilton Worldwide; Denis Cupic, F.O. Development d.o.o., Croatia; Martin Eberhardt, Bouwfonds Investment Management, Germany, Franz Jurkowitsch, Warimpex Finanz- und Beteiligungs AG; Philipp Kaufmann, ÖGNI Austrian Green Building Council; Leopold Kühmayer, TPA Horwath; Alexander Petritz, Institute for Structured Development; Dr. Daniel Thorniley, DT-Global Business Consulting und CEEMEA Business Group; Friedrich Wachernig, S IMMO AG.

The exhibition area is divided into country lounges, e.g. South Eastern Europe Lounge, Czech Lounge, Serbia Lounge, intended as meeting points for delegations from the respective countries. Additional lounges are dedicated to specific topics, such as the Sustainability Lounge (ÖGNI), the finvienna Lounge (Erste Group Immorent and TPA Horwath), the Hotel & Tourism Lounge, the healthvienna Lounge, to mention but a few.
Exhibitors and sponsors include S IMMO AG, Erste Group Immorent, TPA Horwath, ÖGNI, Association for Foreign Investment from the Czech Republic, REBEC from Serbia, Art Build-Up from Bulgaria, Reality Consult and Lansky, Ganzger + Partner amongst others. Servithink is going to present a new management method.
TON-Möbel will provide quality design furniture for the event and will also host the final get together on 20 May 2014 at 5:00 p.m.

Sylvia Foissy, GREET founder: "We managed to bring excellent cooperation partners on board for this year's event. Without them GREET would not enjoy the success it has. In particular I would like to point out our professional cooperation with Erhard Busek and the Institute for the Danube Region and Central Europe."
GREET VIENNA was founded by Sylvia Foissy, "The International Business Multiplier" and stands for "Global Real Estate
and Economy Talks". GREET VIENNA is an international platform for commercial real estate and investments in Central, Eastern and South-eastern Europe (CEE & SEE), reaching well into Russia, Turkey and CIS. It premiered at Vienna's Palais Niederösterreich in June 2013.


Source: GREET Vienna
Publisher: GREET Vienna