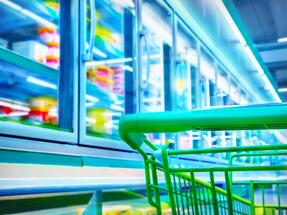 Serbian Minister of Environmental Protection Goran Trivan attended the opening of Delhaize's eco-friendly Maxi store, the first such store in Serbia and the Balkans.

In this store, Delhaize Serbia has replaced the standard cooling system with an environmentally-friendly one, based on carbon-dioxide, whereby it has eschewed the standard freon R404A, which contributes to environmental protection. The innovative technological solution is supported by the Faculty of Mechanical Engineering in Belgrade.

Trivan was introduced to the technological solution for the cooling system and its economic and ecological advantages.

It was emphasized that the system considerably reduces the emission of carbon-dioxide and that it is 25% more energy efficient, making it a significant step forward in environmental protection. Also, by eschewing freon, Delhaize Serbia is complying with European environmental standards.

Trivan said that he was pleased that Serbia had made another step forward in this field, whereby it confirmed its dedication to environmental protection in the whole region.

The minister invited Delhaize Serbia to continue opening eco-stores and other companies to also establish ecological standards in their socially responsible operations.

He especially emphasized the importance of the support of the Faculty of Mechanical Engineering.

Quentin Royer, COO of Delhaize Serbia, emphasized that the company would continue securing environmental standards in its socially responsible operations, for the sake of future generations.

– We have implemented the system of charging for plastic bags, which has led to a reduction in their use by 65%. Together with consumers, we have recycled over ten thousand tons of waste in the past year. We plan to open more eco-stores by the end of the year – Royer said.
(source: ekapija)