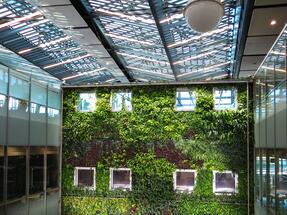 Stretching over and over the facade of buildings, useful air purifiers are useful, but kitchen spices, vertical gardens, or as they are still called green installations, are increasingly adorned with building walls. Apart from destroying monotony, people even in the most environmentally friendly environments provide the spirit of nature. This trend in the world took a lot, and it is increasingly recognized by our investors.
"It is definitely one quality of housing that the buyers receive. The interest is really great, because today investors generally recognize the need of a modern customer, especially in today's busy life and in general when we do not have so much contact with nature, then such concepts are very important have really a piece of their garden in the center of Belgrade, "says Biljana Vukovic from Green Residence - BS Investment Group.
Experts say that despite the green environment protecting against noise and pollution, it also has an impact on the increase in creativity and productivity.
"We here not only consider the green area, but also within the building to have that space, to have plenty of greenery and that people who live there really have not only a high quality visura, but also a good feeling to live in environmentally sound and clean environment" , Explains Goran Rodić from the Serbian Chamber of Commerce.
When building residential, but also business premises, the increasing emphasis is that they are not only visually green, but also meet the energy efficiency standards.
"Investors have primarily recognized this for economic reasons. We are fortunate to have this situation that more and more of these business spaces are green, have these standards and green passports." Investors primarily recognized for economic reasons, "said Marko Stojcic, urbanista
The construction of green residential areas is almost ready for the construction of such business facilities. In the last three years, only 300,000 square meters of energy efficient buildings have been built in Belgrade, and when it comes to commercial facilities, this number reaches half a million.
(source: rts.rs)