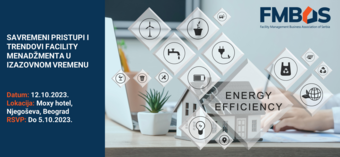 We invite you to participate in the expert meeting:
"MODERN APPROACHES AND TRENDS OF FACILITY MANAGEMENT IN CHALLENGING TIMES" organized by the Facility Management Business Association of Serbia (FMBAS), on Thursday, October 12, at the Moxy Hotel, 2 Njegoševa Street, Belgrade, starting at 09:30.

We dedicate the meeting to topics that are extremely important from the point of view of technology, energy efficiency, and standardization of administrative procedures: Efficient cooling for sustainable energy consumption and Models of facility management services in various RE segments.

Representatives of the following companies will participate in dynamic panels and presentations: ENEL PS, Schneider Electric Srbija, Energy Net, CPI Property Group, Simplify-Marera Green, Coca Cola HBC Srbija, CETIN, MOL Serbia, to present their experiences, and examples of good practice in best way.
Facility Management Business Association Serbia (FMBAS) is a non-governmental, non-profit organization dedicated to the promotion, education and development of the facility management (FM) industry in the Republic of Serbia.
REGISTER NOW FOR FREE PARTICIPATION!