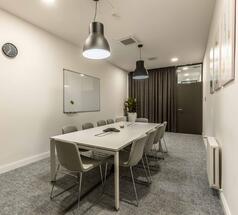 The new location of K27 Novi Sad will also significantly expand the presence of the IWG company in Serbia. The workspace of 545 m2 will provide additional private offices, coworking space, and meeting rooms
The IWG company announced that the demand for space in the newly opened center in Novi Sad is extremely high and that this model of work has already been accepted in the long term by companies of various sizes.
Last year's launch of a partnership with Inobačka d.o.o. - enabling one of the largest construction companies in Serbia to open the first IWG location in Novi Sad.
The Novi Sad business center has a special significance for the IWG company because it is a city known for the largest number of IT experts per capita in the country.
Given the high demand for business space of this type in one of the most developed cities in Serbia, IWG is pleased to present a second location, in one of the most modern new buildings, which is scheduled to open in early 2024.
The new Novi Sad business center developed in partnership with the AEST company will present the HQ brand, which will have private offices, meeting rooms, and coworking space available.
"The demand for flexible working solutions has never been more evident, as companies around the world look for ways to adapt to the ever-changing business environment and respond to the needs of their teams." We are very pleased to witness the excellent response to the offer of our Regus center in Novi Sad and we look forward to new partnerships on the IWG platform, says Mark Dixon, CEO and founder of IWG.
In August of this year, IWG reported the highest six-month revenue in its 34-year history, a result of the rapid adoption of the hybrid model by companies of all sizes around the world. The "big bang of hybrid work" was also reflected in the remarkable growth in the number of centers of the company IWG, which signed 400 new locations in the first half of 2023.
With the demand for hybrid work solutions undoubtedly on the rise, IWG remains committed to continuous innovation and partnerships to provide added value to companies seeking adaptive and collaborative work environments.
Source: Biznisuregionu.com