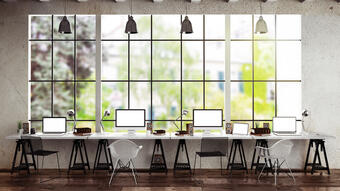 Regus European Trade Center offers numerous facilities, like individual offices, shared spaces, and temporary offices, equipped with high-speed internet, and copiers for printing and scanning. The space is ideal for professionals looking for a dynamic and vibrant setting to work in, with easy access to amenities such as restaurants, cafes, and shops.
Regus Labirint Centre is located in a highly communicative part of the Lyulin district with a capacity of nearly 600 sqm. The new Regus location offers offices, co-working spaces, and meeting rooms, as well as convenient transport options, such as a metro station 50 m away, parking spaces, a shopping centre, and a park. The building has its own restaurant and gym.
"I see a lot of potential in opening a hybrid workspace here. This is a communicative location without enough options for shared offices. I used the opportunity to combine the increased demand and the space available in the building with the know-how of IWG and their ready-made Regus solution", said Petar Matov, an investor in the project and the newest partner of IWG in Bulgaria.
"Our new locations in Sofia come at a time when more and more companies are discovering that a flexible workspace increases employee happiness and satisfaction while helping to protect the environment. Our jobs model has also proven to increase productivity and allow businesses to expand or contract at significantly lower costs," said Mark Dixon, CEO and founder of IWG.
Source: Property-Forum.eu