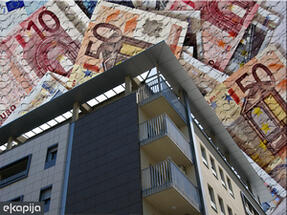 Srpsko tržište je spremno za nekretninske investicione fondove, a oni će pozitivno uticati na razvoj sektora nekretnina. Da bi se formirao takav fond, neophodno je ukinuti dvostruko oporezivanje. To su ključni zaključci okruglog stola na temu "Nekretninski investicioni fondovi u Srbiji - osveženje na domaćem tržištu nekretnina", u organizaciji Udruženja finansijskih analitičara Srbije (UFAS) uz podršku USAID Projekta za bolje uslove poslovanja (USAID BEP), koji je održan 3. jula u Institutu ekonomskih nauka.
Nekretninski fondovi su posebna vrsta investicionih fondova, koji najveći deo imovine ulažu u nekretnine i projekte u vezi sa nekretninama. S obzirom na to da u Srbiji zasad ne postoji nijedan takav fond, UFAS je pokrenuo inicijativu za stvaranje adekvatnih regulatornih uslova za osnivanje i poslovanje nekretninskih fondova u našoj zemlji.
- Srbija ima Zakon o investicionim fondovima i podzakonska regulativa prepoznaje nekretninske investicione fondove, i to u formi zatvorenih investicionih fondova koji više od 60% imovine ulažu u nepokretnosti. Zatvoreni investicioni fond je po pravnoj formi javno-akcionarsko društvo čijim akcijama se može trgovati na Beogradskoj berzi. Sada u Srbiji ne posluje nijedan fond posvećen nekretninama, registrovan u skladu sa domaćom regulativom – rekao je na početku predstavljanja Vladimir Drašković iz Udruženja finansijskih analitičara Srbije.
Kao ključni momenat za razvoj poslovanja nekretninskih fondova, Drašković navodi adekvatnu poresku politiku, odnosno izbegavanje duplog oporezivanja.
- Kao zatvoreni fond koji je pravno lice, fond bi bio obavezan da plati porez na dobit, a potom bi akcionari bili ponovo oporezovani na nivou isplaćenih dividendi, što je nepovoljnije u odnosu na direktno vlasništvo nekretnina koje imaju fizička lica. Neophodno je nekretninskim fondovima omogućiti oslobođenje od dvostrukog oporezivanja, ali i definisati jasne uslove koje treba ispuniti za takvu pogodnost.
Drašković je istakao da takva regulativa postoji u 50 zemalja sveta i da se najuspešnije primenjuje u Americi i Velikoj Britaniji.
Kao dobar primer iz ovog dela Evrope, na skupu je predstavljen model nekretninskih investicionih fondova u Bugarskoj, koji imaju 800 mil EUR pod upravom.
- Bugarska je počela sa primenom propisa 2004. godine. Većina fondova su klasični nekretninski fondovi - fokusirani na odmarališta, poslovne prostore, ritejl. Međutim, postoje i fondovi fokusirani na poljoprivredno zemljište. Najveća prednost poslovanja u Bugarskoj je što je fond oslobođen plaćanja poreza na dobit preduzeća i kapitalne dobitke, samo podležu porezu na dobit preduzeća. U toj zemlji se akcionari, kao fizička lica, oporezuju sa 5% poreza po odbitku na dividende, a kapitalni dobitak se ne oporezuje – objašnjava Drašković.
Kako se čulo na skupu, nekretninski fondovi su dobra mogućnost ulaganja za institucionalne investitore, odnosno osiguravajuća društva i penzione fondove.
- Nekretninski fondovi bi mogli biti kupci imovine koja je kolateral po osnovu problematičnih plasmana bankarskog sektora. Poreska uprava u Srbiji može da poboljša naplatu poreza, budući da se na zakup nekretnina obično ne prijavljuje i ne plaća porez. Mala i srednja preduzeća bi mogla da zaključuju "sale and lease back" aranžamane sa nekretninskim fondovima i poboljšaju svoju likvidnost – naveo je Drašković neke od uloga nekretninskih fondova u Srbiji.
Pitali smo predstavnika UFAS-a, kako bi nekretninski fond uticao na sadašnje tržište nekretnina i šta bi on značio za vlasnike nekretnina.
- Na tržište nekretnina može uticati samo pozitivno. Likvidnost i transparentnost tržišta nekretnina biće poboljšana. Sa jedne strane se pojavljuje novi učesnik, potencijalni kupac, sa druge strane taj kupac, investitor, objavljuje podatke o prinosima koje ostvaruje. Taj novi igrač je uvek sposoban da ponudi neku cenu ako se pojavi atraktivna investicija. Da li će ta cena biti dovoljno zanimljiva prodavcima, to je posebno pitanje, ali je bitno da postoji neko ko daje ponudu – rekao je Vladimir Drašković za "eKapiju".
Kako je rekao za naš portal, na početku bi ovakav fond trebalo da privuče domaće investitore, a kasnije bi i strane kompanije trebalo da postanu veći ulagači.
- Nekretninski fond neće odmah napraviti bum na tržištu, jer se i u drugim zemljama razvijao nekoliko godina - dodaje Drašković.
U Srbiji je 2008. formiran nekretninski investicioni fond "Delta nekretnine", koji nije dugo trajao. Da li je danas tržište spremno za osnivanje takvog fonda?
- Tržište je definitivno spremno, jer nekretnine u našoj zemlji, u odnosu na tržišta u okruženju, nisu precenjene. Tržište nekretnina nudi atraktivne prinose u odnosu na prinose drugih kategorija imovine – objašnjava Vladimir Drašković.
Naš sagovornik kaže da su u SAD razvijeni različiti tematski fondovi - za maloprodaju, poljoprivredno zemljište ili poslovni prostor, dok u Evropi to nije slučaj. Kada je reč o oblastima našoj zemlji, Drašković ocenjuje da bi fondovima mogli biti veoma interesantni logistički centri.
Izvor: eKapija