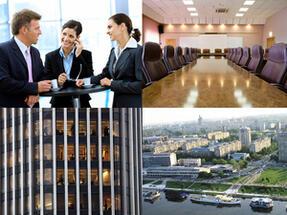 Office space demand
The second quarter of 2014 recorded slower activity with total take up of 9,356 sq m, which is lower as compared to the results achieved in the previous quarter. We believe that the reason for this the lack of new supply as the vacancy rate is continually dropping, causing limited choice of office space for tenants.
Approximately 78% of activity referred to the new lease transactions, 18% to the realized expansions and 4% pertaining to the renewal of existing contracts. The overall number of transactions was 16 and the average deal size equaling 585 sq m.
While observing demand per business sector, we have witnessed that IT companies remained the strongest sector with 29%, followed by professional services sector with 27%, and advertising and media with 14%. The remainder of demand was distributed among banking sector, insurance, manufacturing, legal and other sectors.
Rents and yields of Class A office space at prime locations
Rents for Class A office space at prime locations during the second quarter of 2014 remained stable, ranging between EUR 14-16.5/sq m/month throughout the past 18 months, while the estimated office yield ranged between 9-9,5%.
The Establishment of Belgrade Research
Following the data exchange platforms already existing in Warsaw, Prague, Bucharest, Budapest, Prague and Zagreb, three leading real estate consultancies in Serbia - CBS International (part of the CBRE Affiliate Network), Colliers International and Jones Lang LaSalle established Belgrade Research Forum at the end of 2012, with the aim to collect, analyze and publish the key real estate market data. Three companies will henceforth jointly collect, analyze and report the main quarterly market indicators such as office take up, prime rents and prime yields. Market transparency and accurate key indicators are fundamental for making important real estate investment decisions. With that regard, this initiative marks the introduction of new business approaches and implementation of best market practices.
Source: eKapija