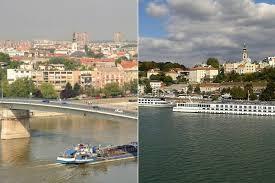 The average price of new construction in Serbia in the first half of this year was around 1,400 euros. The square ranged from just over 400 euros to about 3,300 euros on average in Belgrade.
Practically, for 40,000 euros, a luxury apartment of 100 square meters can be bought in Tutin, while on Savski Venac that amount would be enough for one room of 12 square meters, and in Novi Sad for a smaller apartment of about thirty square meters.
For a square meter of apartments in popular Belgrade municipalities, such as New Belgrade, which has become a business center, or the Old Town, for those who prefer the center of the capital, two square meters can be bought in Novi Sad. Namely, the price of apartments in "Serbian Athens" reached 1,200 euros per square meter, while real estate in New Belgrade and the Old Town cost 2,400 euros and 2,500 euros, respectively.
Observed by municipalities, the highest prices of newly built apartments were recorded in Belgrade municipalities, where the average price in urban settlements was around 1,900 euros, according to the data of the Republic Bureau of Statistics.
In addition to Belgrade municipalities, real estate in Cajetina, Novi Sad, Vrnjacka Banja, Uzice, Kragujevac and three Nis municipalities (Red Cross, Mediana and Palilula) stood out at high prices.
In the first half of 2020, you could choose between apartments in the increasingly popular Vrnjacka Banja and twice as small in Vracar, because real estate prices were exactly in that ratio - about 1,050 euros in a popular resort and 2,100 euros in downtown Belgrade.
Due to the accelerated construction and more and more new tourist facilities on Zlatibor, real estate in Cajetina, which is also among the most expensive, has become very popular. A square in this municipality cost almost 170,000 dinars on average (1,450 euros) in the first half of the year, which is only a few thousand less than the apartments in Belgrade's Zvezdara.
Real estate in Uzice and Kragujevac is also in demand, where prices have reached 1,000 and 980 euros per square meter, but also in the Nis municipalities of Mediana and the Red Cross (1,000 and 1,200 euros).
Among the cheapest apartments, after Tutin, are those in Bujanovac, Smederevska Palanka and Raska, and in terms of prices, they are close to Apatin (510 euros per square meter), Veliko Gradiste (535) and Vranje (575). Thus, for a square meter of an apartment in Surčin or Rakovica, you could get two square meters in Prokuplje or Paraćin.
Source: Blic.rs