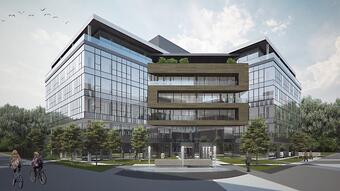 The vision of the ideal business facility and even better environment will soon be realized in the framework of the new Belgrade settlement Bežanijska kosa. "Green escape", a business complex of modern architecture, will provide future users of business space functionality and comfort, while representing the perfect blend of quality and comfort.
The new business complex will be built in Block 51 and thanks to the position along the E75 motorway, this project, in addition to the sophisticated architecture, offers an ideal connection to the greenery in the surrounding area, providing quick and easy communication to all parts of the city.
The new business complex will be built on three parcels intended for business and commercial purposes, which envisage the construction of multifunctional business facilities, which are fully equipped with infrastructure for all needs. Impressive complex, measuring 65,000 square meters, will be developed as a new city business zone, offering plenty of benefits and additional value compared to the standard offer of business premises in Belgrade, and besides the possibility of leasing, there will be an option of buying a business space.
All three facilities in this complex are designed as modern, technologically advanced and functional business spaces, which within their capacities can very flexibly accept various program contents within the commercial activity and to follow all the specific requirements of future clauses. In this way, the client gets a business space to suit his own needs.
Future users will also have a hotel built within the complex, providing comfort to those who decide to place their business right at this address. Also, Green Escape also offers business suites, conference rooms, offices for rent, a spa center with swimming pool and all accompanying amenities, sports facilities, childcare services, shops with shops and more. The large and sumptuous green areas will be adorned with the Green Escape complex and will make it a perfectly pleasant and sizzling place for business. While overhead floors are reserved for office space, two underground levels will be realized as a garage space that will complement comfort for all users of the Green Escape complex.
New Belgrade has positioned itself as a central business zone over the years, among other things, because it is far more infrastructureally superior than other parts of the capital, as well as due to the availability of land, available parking, as well as proximity to the airport and the E-75 outlet. For this reason, 70-80% of transactions are taking place in New Belgrade.
The rate of available business space in Belgrade is otherwise low, and in New Belgrade it is even lower and it was below 3% at the end of the first quarter of this year. That is why it is great news that the Green Escape business complex will enable users of new 14,325 square meters to be built within the first phase or business facility K3. This business complex is also specific in that it will have floor coverings between 1,500 and 1,600 square meters, which will provide future customers with great flexibility in the design and optimal layout of the office space.
The new impressive business complex is a project of the renowned construction company Imel, while the exclusive partner for issuing business space is a leading real estate consultancy, CBS International, part of Cushman & Wakefield Group.