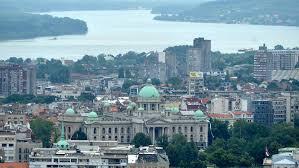 Although at first glance it does not "catch the eye", the fact is that it is becoming more and more attractive and sought after in our country. This is a trend from the west, which is interesting both in terms of price and everything it provides to its users, and it is about "fenced settlements".
The name alone reveals what it is about, and most of us recognize them from American movies. These are rows of houses in the suburbs that look like each other, with landscaped lawns ... The entire settlement is fenced, there is usually a guard at the main gate, and for additional security, a video surveillance system has been installed.
Today, investors are building and planning them all over Serbia: in the capital, on Zlatibor, but also in Vrnjačka Banja, Srebrno Jezero, Fruška Gora ... Prices start at around 80,000 euros per unit on average. For that money, you can get a house of 54 square meters, with a yard and a parking space.
And the advantages of such a settlement are numerous. Although they are located in the suburbs, to which the negative connotation is still associated in Serbia, they are safe, tidy and ensure privacy. There are no crowds, parking problems, garbage, they are mostly full of greenery, and children can safely play outside.
Potential
However, experts point out that this trend is still in its infancy, but that it will certainly continue to develop.
- We have not yet reached that level, to build "fenced settlements" for the rich en masse. We have some elite settlements in cities in Serbia, such as Bežanijska Kosa, Dedinje, Belgrade on the Water in Belgrade, points out the appraiser and vice president of the Professional Real Estate Council, M.Sc. Milić Đoković.
He points out that typical settlements have existed before, for example the Professor's Colony in Belgrade, but that now the need of the rich for peace and quiet is slowly emerging.
- There is a need to fence a little, to make their own oasis of peace. An example of that is Novak Djokovic, who built a villa on Lake Pavlovac. Several actors also moved out of town. They are all looking for peace, quiet and intimacy that the city environment does not have - adds Djokovic.
As he points out, such settlements in Serbia are still not large.
- There are no larger complexes, but for now, settlements are being built in which there are a couple of rows of houses or 3.4 buildings. However, over time, I believe that the demand will be higher, and that the trend will stabilize, ie that the construction of larger complexes will begin - he concludes.
What do these settlements look like?
As a rule, such settlements are located on the outskirts of urban areas. They usually have additional "contents" such as swimming pools, sports fields, playgrounds ... As these are completely separate settlements, in the first phases of construction, infrastructure, streets, lighting, fencing are being done ...
The planned settlements number from 11 houses with an area of ​​108 square meters, in the case of the smallest project, to a settlement with 100 houses, with an area of ​​73 to 161 square meters. In one of them, the sale has started and for 80,000 euros, a house of 54 square meters with parking and a yard can be bought.
Following the example of the west
This, like most other trends, we imported from the west. In the middle of the twentieth century, with the strengthening of the economy, the inhabitants of the United States began to move to the suburbs.
The development of infrastructure enabled people to have easy access to city cores and their "facilities", and people were able to keep their jobs. What followed was called "explosive suburbanization", ie the popularization of this trend, writes the magazine The Economist.
Over half of the American population lived in urban areas in the 1940s, and the majority of the urban population (about a third of the total) lived in the centers. By 2000, more than 80 percent of the U.S. population had moved to urban areas, but more than half of them began living in the suburbs.
Source: Srbijadanas