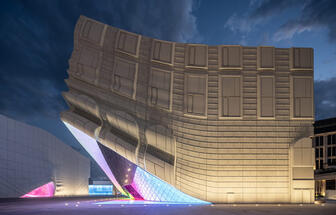 U okviru dve zgrade nalaze se zatvoreni tematski park i noćni klub. Nijednoj od ove dve zgrade nije potrebna prirodna dnevna svetlost, tako da je MVRDV bio u mogućnosti da ih napravi bez prozora. Ovo je holandskom studiju dalo slobodu po pitanju kreiranja fasade, koju su iskoristili i to maksimalno.
Firma je izabrala da konstrukcija upućuje na objekte okolnog "Paradise Cityja", hotelskog rizorta koji koristi najveći aerodrom u Južnoj Koreji. Elementi ovih postojećih objekata pojavljulju se po fasadama "The Imprint".
"Postavljanjem okolnih zgrada na fasade naših zgrada i na centralnom trgu povezujemo "Imprint" sa susedima", objasnio je Winy Maas, direktor i suosnivač MVRDV-a.
"Ovo obezbeđuje koherentnost. "Paradise City" nije zbir pojedinačnih objekata kao što je Las Vegas, već pravi grad".
Prozori, vrata i ostali detalji na fasadama obližnjih zgrada su mapirani na većinu novih konstrukcija.
Zbog složenosti fasada, brojni pojedinačni paneli su izrađeni od betona armiranog staklenim vlaknima koji su izliveni u kalupe proizvedene pomoću programa za 3D modelovanje.
Obe zgrade su bele boje i od reflektujućeg stakla kako bi se naglasili fasadni elementi, izuzev jedne fasade tematskog parka.
Zlatni završni sloj na ovoj zgradi ima za cilj da privuče pažnju putnika koji slete na ovaj aerodrom.
"Devičanska zgrada je prelivena zlatnom bojom", rekao je Maas. "Ovo daje efekat kao da je noću osvetljena zrakom sunčeve svetlosti."
"Putnici koji pristižu avionom mogu da vide ovo "sunce" iznad okeana, koje predstavlja neku vrstu dobrodošlice u Južnu Koreju."
Ulaz koji je postavljen sa strane ove zlatne fasade, koja je izgrađena kao podignuta zavesa, vodi na stazu kroz zgradu.
Ova staza ima stakleni pod koji se sastoji od multimedijalnih ekrana, koji se reflektuju u zakrivljenim ogledalima.
Kombijuju se refleksija i teatralnost", rekao je Maas.
"Našim projektom obezbeđeno je da nakon noćnih vratolomija, sledi tišina tokom dana koja gotovo doslovno reflektuje situaciju za "after party".
Arhitekta veruje da se pored toga što je ovo kompeks za zabavu on može smatrati i umetničkim delom.
"Pre dva meseca urađena je većina obloga i klijent je tom prilikom rekao: "ovo je jedno umetničko delo". Ono što je zanimljivo u vezi toga jeste to što oni traže taj moment kada zabava može postati umetnost ili zgrada može postati umetnička", nastavio je Maas.
"Koja je onda razlika između arhitekture i umetnosti? Projekat se igra sa tim i mislim da je apstrakcija deo nje, ali mora iznenaditi, zavesti i mora se zatim smiriti."
MVRDV vodi Maas zajedno sa Jacobom van Rijsom i Nathalie de Vries. Studio je nedavno otkrio planove za poslovnu zgradu sa interaktivnom ogledalo-fasadom u južnoj Nemačkoj.
(izvor: gradjevinarstvo.rs)