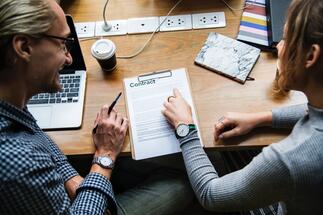 Poreske olakšice za početnike u poslovanju u Srbiji primenjivaće se od danas.

Prema izmenama Zakona o porezu na dohodak i Zakona o doprinosima za obavezno socijalno osiguranje koje su usvojene u decembru prošle godine, početnici u poslovanju biće oslobođeni plaćanja poreza na zarade i doprinosa za obavezno socijalno osiguranje u trajanju od godinu dana. Ta novina odnosi se na zaradu osnivača preduzetničke radnje i zarade do devet novozaposlenih osoba, koje moraju da budu tek svršeni srednjoškolci, studenti ili osobe sa evidencije NSZ.

Uslov da nezaposleni koji počinju biznis dobiju poresku olakšicu je da su duže od šest meseci na evidenciji NSZ. Poreske olakšice mogu da ostvare poslodavci koji su osnovali firmu u periodu od početka primene zakona, odnosno od 1. oktobra 2018. godine do 31. decembra 2020. godine. Pravo na olakšice može da ostvari poslodavac - novoosnovano pravno lice, kao i novoosnovani preduzetnik koji je upisan u registar nadležnog organa, odnosno organizacije, i to kao pravo na oslobađanje od plaćanja poreza i doprinosa po osnovu zarade osnivača, odnosno po osnovu lične zarade preduzetnika, kao i po osnovu zarade zaposlenih i to najviše za devet novozaposlenih lica sa kojima je zasnovao radni odnos.

Korisnici olakšica mogu da se registruju ili kao preduzetnici u režimu isplate lične zarade ili kao društvo sa ograničenom odgovornošću, a u oba slučaja imaju obavezu vođenja poslovnih knjiga.

Uvođenje podsticaja za početnike u poslovanju ključna je novina i jedna od najvažnih mera Nacionalnog programa za suzbijanje sive ekonomije.

Analiza poreskog i neporeskog opterećenja početnika u poslovanju koju je realizovala Nacionalna alijansa za lokalni ekonomski razvoj (NALED) pokazuje da uštede koje će po tom osnovu ostvariti preduzetnici idu i do 250.000 dinara godišnje po osobi kod isplate minimalne zarade.
(izvor: ekapije)