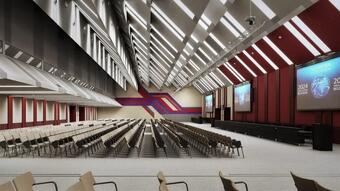 The congress and business part of the Sava Center opened exactly three years after the company Delta Real Estate became the owner of this facility in a public tender. The fundamental renovation began in December 2021, and the total investment will be worth more than 118 million euros.
The part of the Sava Center that will host local and foreign guests from November includes 65,000 m2, i.e. more than two-thirds of the total area of this facility. The congress part consists of 46 halls (instead of the previous 16), among which is the famous Main Congress Hall, the place of some of the most important gatherings in the history of Belgrade, Serbia, and the former Yugoslavia. A special attraction of the Sava Center will be an immersive hall, unique in this region.
Class A business premises and a shopping area with a restaurant and outlets of various brands and services were renovated and renovated.
The reconstruction of the Sava Center is being carried out in two phases, in the same way as this building was built. The reconstruction of the famous Blue Hall will continue according to plan until the middle of 2024 and its capacity will be increased from 3,672 to 4,000 visitors.
The investor Delta Real Estate fully fulfilled the obligation to maintain the purpose of this object. The architecture and interior elements have been preserved and have been placed under the protection of the Institute for the Protection of Cultural Monuments in Belgrade. In addition to preserving the recognizable exterior appearance, the brainchild of architect Stojan Maksimović, the numerous interior elements that make Sava Centra known to Belgraders and guests of the capital have remained the same. The walls are still decorated with the famous world map, concrete elements, long halls, and the form of space with galleries. The works of art that decorated the interior of this building for years have also been preserved.
After the complete reconstruction, the congress and business part of the Sava Center is once again a modern facility, energy efficient, built with the highest environmental standards, including the BREEAM certificate, one of the leading certificates for assessing the impact of buildings on the environment.
Source: Pcpress.rs