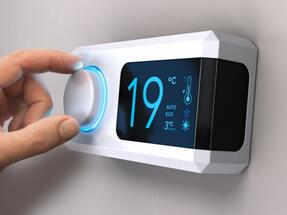 "Pametne zgrade" predstavljaju u svetu budućnost građevinske delatnosti. Možda bi najslikovitiji opis ovakvih objekata bio da u njima sve funkcioniše na dugme, jednim klikom na računaru, tabletu ili mobilnom telefonu. Gde god se nalazite možete da kontrolišete "scene" u kući, uključiti bojler, grejanje, podizati roletne i slično. Sve do obaveštavanja i reagovanja u urgentnim situacijama.
Precizniji opis pametnih zgrada bio bi da su to objekti kod kojih se u izgradnji koriste materijali i sistemi koji će doprineti što manjoj potrošnji energije i što jednostavnijem rukovanju svim sadržajima. U izgradnji takvih objekata posebno se vodi računa o kvalitetno projektovanim i ugrađenim materijalima i termoizolaciji. To je praktično i osnova racionalnog korišćenja sistema hlađenja i grejanja.
Stručnjaci ukazuju da u Srbiji pametne zgrade još uvek "niču" tek sporadično, jer je ovaj biznis nesumnjivo skup, a i građani nisu dovoljno informisani.
Najviše interesovanja za kodirane kartice i daljinsko upravljanje sistemima
Dragan Jovanović, IT stručnjak iz kompanije Smart Home Srbija, kaže za eKapiju da su nove tehnologije u objektima u Srbiji zastupljene u veoma malom procentu, mahom u izgradnji modernih "pametnih" zgrada. U najvećem broju slučajeva, kako navodi, klijenti te firme su pravna lica - investitori i/ili izvođači. Nešto manje od jedne četvrtine su fizička lica, ljudi koji žele da postignu maksimum luksuza u svom životnom prostoru.
Investitori su najviše zainteresovani za daljinsko upravljanje sistemom grejanja, kodirane kartice za ulazak u objekte i video nadzor stambenih objekata, sa mogućnošću daljinske kontrole.
- Svi naši klijenti uglavnom dolaze kod nas zbog jedinstvene kombinacije servisa koje nudimo, a to obuhvata kontrolu na daljinu skoro svih električnih uredaja u kući, kao i njihovu glasovnu kontrolu – rasvete, multimedije, rolo zavesa, klima uređaja i mnogih drugih aparata – ističe Jovanović.
On smatra da treba da prođe i nekoliko godina dok se za nove tehnologije pročuje u Srbiji i dok one ne nađu svoje mesto kod određenog procenta populacije koja to sebi može da priušti. Trendovi u svetu su, međutim, takvi da sve ide ka umrežavanju uređaja (Internet of Things).
Ipak, Nenad Lazarević, managing partner portala www.srbija-nekretnine.org, kaže da je koncept pametne gradnje sve prisutniji na domaćem tržištu i da se od skoro na tom sajtu nalazi nekolicina takvih objekata. Kako navodi, oni kombinuju višestruke benefite novih tehnologija, kako onih vezanih za komfor, tako i za uštedu energije.
- Očekujemo da se ovaj trend nastavi. Iako postoji određeno interesovanje za tehnološki bolje opremljene nepokretnosti, domaće tržište još uvek ne koristi ovo kao suštinski bitnu stavku pri odluci o kupovini nekretnine - kaže Lazarević u razgovoru za eKapiju.
Kupci žele smart house sistem
Jedan od primera pametne zgrade je projekat Xenon, ekskluzivni stambeno-poslovni objekat na južnoj padini Vračara i Zvezdare. Čine ga stambeni, poslovni, garažni i hotelski deo. Investitor Miroslav Ćeranić kaže da je gradnja ovakvog objekta, koji po svim parametrima spada u pametnu zgradu, jako komplikovana, kako u građevinskom, tako i tehničko-tehnološkom pogledu.
U toj zgradi postoji specifičan sistem grejanja i hlađenja kroz zidove i podove, kao i instalacije koje omogućavaju daljinsko upravljanje svim sistemima pametne zgrade. Postepeno se zagrevaju svi elementi u stanu, u skladu sa vremenskim prilikama, a temperatura nikada nije ispod 14 stepeni. Grejanje se plaća po utrošku.
Takođe, postoji i mogućnost automatskog spuštanja ili podizanja roletni i paljenja ili gašenja grejanja, što donosi uštedu energije od 20%. Zidovi su debljine najmanje 60 cm, a prozori imaju ugrađeno emisiono staklo punjeno argonom, što takođe doprinosi energetskoj efikasnosti.
Na pitanje gde je Srbija u odnosu na svet kada je reč o pametnim nekretninama, Ćeranić kaže da ljudi u Srbiji nisu dovoljno informisani o svim trendovima i mogućnostima.
Direktorka prodaje i marketinga vodeće konsultantske kuće za nekretnine CBS International, koja je deo Cushman & Wakefield Grupacije, Mina Kalezić, kaže za eKapiju da se trendovi menjaju sa svakim novim projektom kao naprednijim. Jedan od sve češćih zahteva kupaca je i mogućnost ugradnje smart house sistema, sa opcijama kontrole uređaja u stanu sa bilo koje lokacije, kao što je kontrola bojlera, podnog grejanja, klima uređaja, roletni i kalorimetra za potrošnju grejanja.
Jelena Plavanski iz Privredne komore Beograda ističe da se savremene tehnologije u najvećoj meri odnose na koncept pametne kuće u investitorskoj gradnji, dok se kod privatnih stambenih objekata u većoj meri tiču takozvane pasivne gradnje. Kako kaže sagovornica eKapije, kod ljudi koji se odluče za kupovinu skuplje nekretnine postoji interesovanje za video nadzor, kodirane kartice i slično, što nije slučaj kod kupaca slabije platežne moći. Sve se uglavnom svodi na mesto gde se prodaje nekretnina, odnosno da li je u pitanju luksuzna ili prosečna lokacija i gradnja.
Zelene tehnologije sve prisutnije u svetu
Izvršna direktorka Saveta zelene gradnje Dragana Korica kaže da se, globalno gledano, građevinski sektor nepovratno okreće principima zelene gradnje.
- Tehnologija je sve inovativnija i može se reći da počinje jedna globalna trka u tome ko će imati zeleniju zgradu - objašnjava svetske trendove sagovornica eKapije.
Kada je reč o tome šta principi zelene gradnje sve tačno podrazumevaju, Dragana Korica objašnjava da bar nešto primenjeno od principa zelene gradnje može objekat svrstati u manje ili više zelen. Jedan od osnovnih principa je LCA (Life cycle assessment) odnosno tretiranje čitavog životnog ciklusa objekta - od planiranja, projektovanja, izvođenja, korišćenja/upravljanja i održavanja, pa i samog rušenja na kraju.
Tu je, nadalje, uključenje obnovljivih izvora energije, efikasnost u korišćenju resursa, energije i vode, reupotreba i reciklaža, unutrašnji komfor korisnika (termalni, akustički, vizuelni, kvalitetan vazduh...), primena ekoloških i prirodnih ne toksičnih materijala i još mnogo toga.
Korica navodi jedan od najsvežijih primera iz Japana - soliter visine 350 metara kompletno drvene konstrukcije koji će se graditi u Tokiju. Ovakav objekat već postoji u Beču (HOHO objekat), mada znatno niži. Suština je što ni u Japanu, a ni u Austriji zakon nije dozvoljavao ovakvu gradnju, ali je prepoznao neophodnost promene i prilagodio se konceptu održive gradnje.
U Srbiji je sve prepoznatljiviji trend sertifikacije objekata, i to uglavnom u komercijalnom sektoru. Ako se posmatra broj izdatih sertifikata, dobrovoljnog standarda kojim se dokazuje primenjenost principa zelene gradnje, u ovom momentu u Srbiji ima 12 LEED i 1 BREEAM sertifikovani objekat, od kojih je većina u Beogradu.
Kada je u pitanju individualna gradnja, prepoznavanje zelenih principa vidi se u primeni obnovljivih izvora energije (geotermalne i solarne).
Kako kaže Dragana Korica, stambeni sektor se ne može pohvaliti da o tome razmišlja, a sa druge strane postoje entuzijasti širom Srbije koji samouko, ili uz pomoć struke, pokušavaju da obnove tradicionalnu individualnu gradnju koja takođe ima elemente zelene gradnje.
- Ovo je svakako vredno pažnje i podrške, bilo da je reč o gradnji pomoću naboja, bala slame, kombinacije blata i slame, drveta, primenom lokalnog materijala. Ovakve kuće su inače vrlo cenjene i imaju veliku vrednost u zemljama poput Švedske, Danske, Islanda... Takođe su za pohvalu i potezi pojedinaca koji se zalažu za primenu pasivnih principa gradnje - ističe sagovornica.
Jelena Plavanski kaže da se u zelenu zgradu može svrstati i ona koja ima samo ozelenjeni krov, određenu vrstu izolacije ili prozora, način na koji zadovoljava energetske zahteve, ventilaciju... Takvih zgrada ima, ali još ne u tolikom broju kao u nekim razvijenijim zemljama. Na teritoriji Srbije postoji desetak "zero energy" zgrada, ali one su u privatnom vlasništvu.
- U ovom trenutku nema puno toga što obavezuje investitore da razmišljaju u ovom pravcu. Još uvek ne postoji svest o značaju zelenih tehnologija i zgrada zato što je sve okrenuto profitu - zaključuje Plavanski.
(izvor: eKapija)